New Jersey Medical School ARTS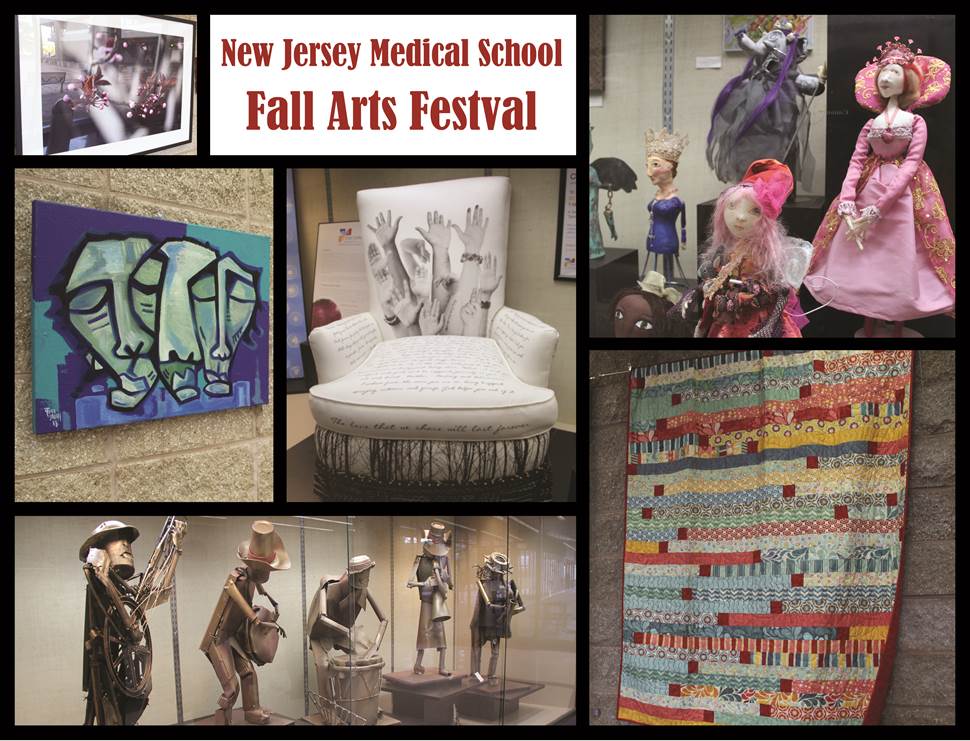 Fall Arts Festival
Since its debut in 1999, NJMS ARTS has become a celebrated event eagerly anticipated by the school and community. Each year Rutgers NJMS faculty, staff, students, patients, friends and family members display their talents.
In the past, participants have exhibited a variety of art in multiple forms, including paintings, drawings, sculptures, photography, poetry, jewelry, quilts and needlepoint. In addition to celebrating the wonderful artistic talent of our community, NJMS ARTS focuses on the importance of artistic outlets to personal health and wellness.
All the artworks will be displayed in the Medical Science Building on both B and C-levels from September 11, 2017 - January 4, 2018. The Artists Reception will be held on October 12, 2017 from 4:00pm - 5:30pm on B-Level in the NJMS Medical Science Building, 185 South Orange Avenue, Newark, NJ 07103.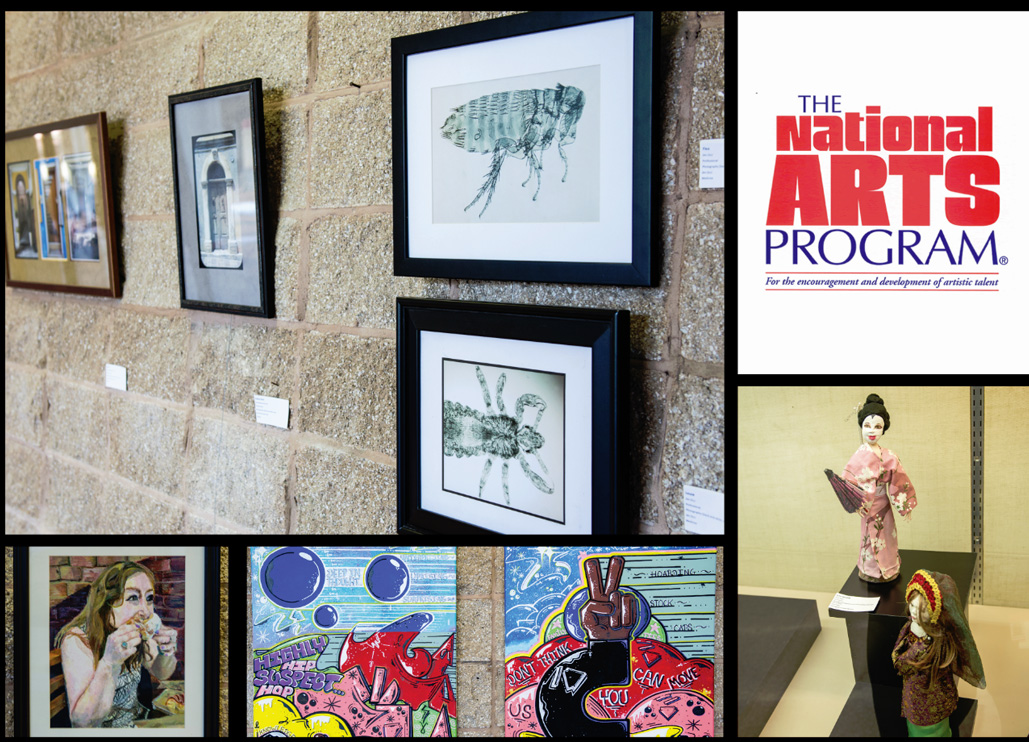 National Arts Program
The 7th Annual Exhibit and Awards of the National Arts Program for Rutgers University employees and their families at New Jersey Medical School will be on display throughout B-level of the Medical Science Building from January 22, 2018 - April 18, 2018.
Last year, the composition of the pieces varied and included crafts, paintings, sculpture and photography from the creative talents of over 120 participants from ages 4 and up.
The Awards Ceremony will be held on Thursday, February 15, 2018 with cash awards ranging from $50 to $400 for different categories that will be presented.
The National Arts Program Awards - 2017
Professional
First – Ken Davis (Sidelined)
Second – Walter Hewes (Untitled)
Third – Barry Kreiswirth (large handled mug)
Honorable Mention – Karen Floriani (The Soft Parade)
Honorable Mention – Susanne Pitak-Davis (Make Way for the Bird)
Intermediate
First – Elaine Gross (Dawn Fishing)
Second – Leon Segal (Debbie – Vase)
Third – Brianna Fowls (Band-aid quilt)
Honorable Mention – Hana Aviv (Scottish Countryside)
Honorable Mention – Debra Heller (Lady Elizabeth)
Amateur
First – Monica Castle (The Beginning of my relationship with cake)
Second – Manisha Sinha (Solitude)
Third – Natalia Denissova (The Still Life)
Honorable Mention – Jeric Balmaceda (Under the Tree)
Honorable Mention – Hannah Hewes (Thai Elephant)
Teen 13 – 18
First – Yao Bian (Her)
Second – Kerry Grumka (Studying)
Third – Sophia Zhuang (The Blue Earring)
Honorable Mention – Rosemary Wei (The Fallen)
Honorable Mention – Michael Burdge (Pepper)
Youth 12 and Under
First – Siri Patil (Autumn Glory)
Second – Samantha Rausa (Hands)
Third – Maia Marull (Birch Forest)
Honorable Mention – Thomas Estrada (On a Countryside)
Honorable Mention – Katelen Estrada (Merry Christmas)
BEST OF SHOW - Yonatan Kaplan (District Donut) Intermediate Category
ART EDUCATION AWARD – Kiyoshi McBurrows (Kiyoshi's Kreatures Continued) Youth Category
Click here for the full list of this year's artists.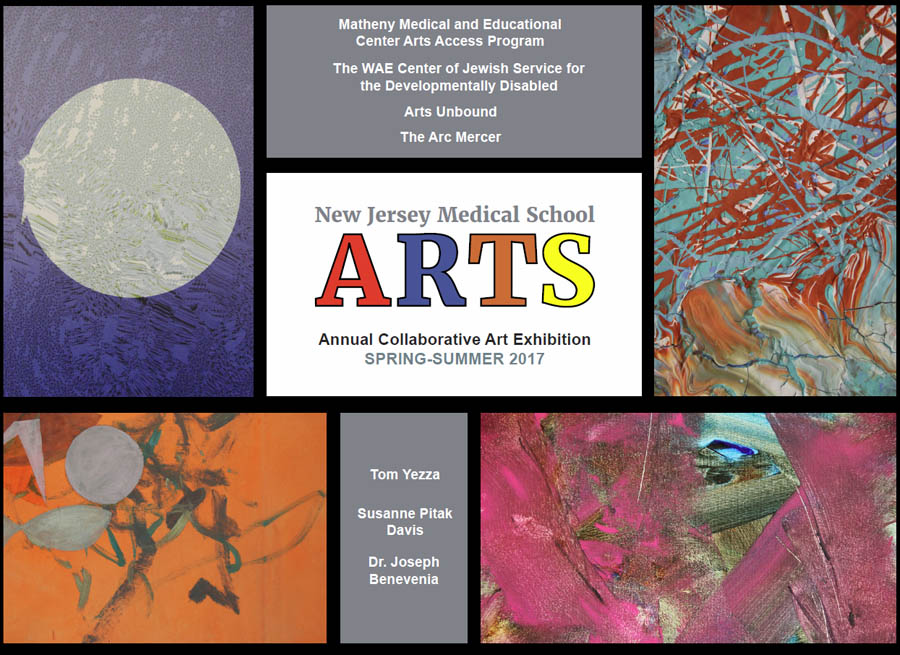 Annual Collaborative Art Exhibition
New Jersey Medical School ARTS (NJMS ARTS) Collaborative Exhibition represents the art work of four outstanding arts organizations serving the disabled community. This year NJMS hosted the Artists' Reception on Sunday, May 7th, from 2:00pm to 4:00pm on B-Level in the Medical Science Building. Attendees brought family and friends to meet and support the artists.
The programs participating include:
Matheny Medical and Educational Center's Arts Access Program
www.artsaccessprogram.org
www.matheny.org
Arts Unbound
http://www.artsunbound.org/
The WAE Center of Jewish Service for the Developmentally Disabled
www.waecenter.org
The Arc Mercer
http://www.arcmercer.org/
JVS of MetroWest
http://www.jvsnj.org/
All five organizations have thriving programs to enable individuals with disabilities to create fine art. The artistic process is an undeniable source of empowerment for people with disabilities, and the exhibited work is a testament to the success of each of these programs.
To view photos of the 2017 Annual Collaborative Art Exhibition, click here.
For more information or to participate in the NJMS ARTS programs, contact Noreen Gomez at gomeznm@njms.rutgers.edu or (973) 972-4795.