The Comprehensive Pain Management Center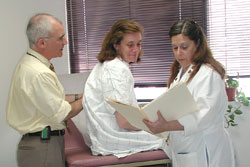 The Comprehensive Pain Management Center was established by the Department of Anesthesiology to help patients with various stages and types of complex, acute, and chronic pain. These include, but are not limited to myofacial pain, neuropathic pain, headache, trigeminal neuralgia, chronic regional pain syndrome, disc herniation, post laminectomy syndrome, spinal stenosis and post herpetic neuralgia. In addition, our Center specializes in the treatment of patients who have cancer, or those who are suffering from post-injury or surgery.
Our aim is to minimize symptoms associated with the pain the patient is experiencing and return the person to as much functionality as their individual case allows. Treatment options may include oral or transdermal medications, T.E.N.S. units, epidural injections, fact join injections, nerve blocks, radio frequency ablation, spinal cord stimulation trials, and/or intra-thecal pump trials when appropriate. We also refer patients for alternative techniques such as acupuncture, chiropractic care, bio-feedback, and self-hypnosis.
The Pain Center also functions within University Hospital as a consulting service for acute and chronic pain patients. While registered in the hospital setting, our staff regularly monitors these patients. Treatment options may involve the use of PCA pumps (patient controlled analgesia), indwelling catheters such as epidurals and/or oral, or transdermal medications. Once discharged, chronic pain patients frequently continue their follow-up care at the Center on an as needed basis. The benefit of having this option for continual care is that it enables a team approach between our Center and other departments within the University system. Together with the patient, their family, and their other physicians, we can create both short and long-term goals, and work to meet the patient's needs.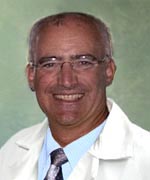 Andrew Kaufman, MD is Director of the Pain Center. He is a Board Certified Anesthesiologist with Fellowship training in pain medicine from Harvard University. He has been in practice for over ten years and exclusively practices pain management. Our in-house Nurse Practitioner, Chanmonie Kaulesar, NP has extensive expertise in pain medicine as well as counseling patients and their families. Also on staff is Alesia White, Office Manager/ Scheduling Coordinator, who would be happy to answer any questions about the Pain Center and schedule an appointment.
For more information or to schedule an appointment please call 973-972-2085.
Staff
Andrew Kaufman, M.D., Director
Carolyn Kloepping, M.D.
Ferdinand Iannaccone, D.O.
Chanmonie Kaulesar, NP
Alesia White, Office Manager


Read Dr. Kaufman's Pulse Article