University Hospital
Medical Intensive Care Unit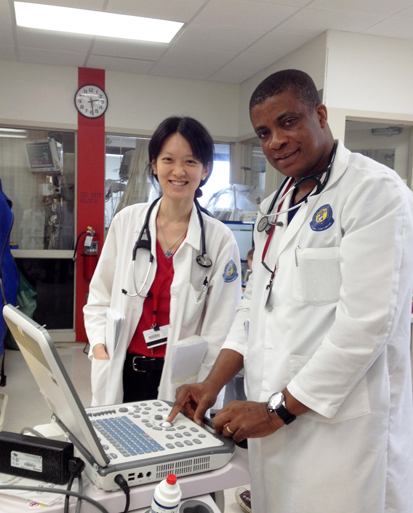 The MICU at University Hospital is a high acuity, 15-bed unit where fellows will gain first-hand experience in managing patients with severe illnesses, including septic shock, ARDS, obstructive lung diseases, acute stroke and other neurologic emergencies, gastrointestinal hemorrhage, acute liver disease, complications of malignant disease, metabolic crises as well as endocrine emergencies. The fellow will become skilled in all critical care procedures with attending supervision. Ultrasound is available on-site for procedures as well as for diagnostic use. UH has a seasoned Palliative Care Team and fellows will become adept at providing empathetic end-of-life care. Fellows are integral to daily multidisciplinary rounds and patient care, as well as for medical student and resident education and supervision. As fellows rotate through the MICU several times during their 3 year fellowship, they become progressively more independent and skilled at managing complex, critically ill patients.
Pulmonary Consultation and Pulmonary Physiology
Trainees, in conjunction with Pulmonary and Critical Care faculty, will assess and help manage inpatients with a wide variety of acute and chronic respiratory illnesses. Requests for consultation come from all services within the hospital, including Medicine, Surgery, Surgical subspecialties, Psychiatry and Obstetrics-Gynecology ensuring that fellows become well versed in Pulmonary Medicine. The fellow also performs flexible bronchoscopy, including transbronchial biopsy, endobronchial biopsy, transbronchial needle aspiration, bronchoalveolar lavage and endobronchial brushing, under attending supervision. Fellows will gain exposure to endobronchial ultrasound (EBUS). In addition, fellows on this service will become experts in pulmonary physiology and interpretation of pulmonary function tests. Together with the MICU fellow, the pulmonary consult fellow will also perform critical care consultations throughout the hospital.
Tuberculosis Consultation
Fellows, supervised by faculty from the Global TB Institute, provide expert care for inpatients with tuberculosis. In addition, NJMS – Rutgers PCCM fellows have a unique learning opportunity to spend time at the Global TB Institute, where the focus is on comprehensive management of the patient with TB as well as advancing research in diagnostics, therapeutics and gaining control over the global TB epidemic.
Trainees also rotate through the Surgical Intensive Care Unit, Cardiothoracic Intensive Care Unit, Radiology, and Neuromuscular Disease/Chronic Respiratory Failure services.
VA New Jersey Health Care System – East Orange VA Medical Center
Medical Intensive Care Unit
The ICU is a combined 16 bed MICU/SICU. The ICU is supervised by an attending and one pulmonary fellow from our section. The PCCM section works closely with Respiratory Therapy and fellows are active in providing all aspects of ventilator management and respiratory therapy. Fellows will also supervise and educate NJMS residents and medical students who are rotating at the VA.
Pulmonary Consultation
Four full-time physicians staff the Pulmonary/Critical Care section at the East Orange VA Medical Center. The section provides pulmonary consultation, both on an inpatient and outpatient basis. Fellows gain experience with a broad range of procedures, all performed by fellows with attending supervision. The East Orange VA Medical Center performs roughly 150 bronchoscopies annually. A fully equipped Pulmonary Lab provides standard pulmonary function testing, as well as impulse oscillometry, mannitol challenge testing and cardio-pulmonary exercise testing.
Sleep Medicine
The Sleep Laboratory is directed by Dr. Allen Blaivas in the Pulmonary section. It is a four-bed, state-of-the-art sleep center. Home-based sleep testing is also available. Fellows will gain experience in diagnosis and management of a broad range of sleep-related disorders and work closely with physicians specialized in Sleep Medicine.
Hackensack University Medical Center
Intensive Care Unit
The ICU at HUMC is a 20 bed unit with 24 hour critical care attending presence. PCCM fellows will have exposure to a broad range of critical illnesses including septic shock, ARDS, obstructive lung disease, pulmonary vascular disease, gastrointestinal, renal and electrolyte disorders. Trainees will become skilled in airway and ventilator management, hemodynamic monitoring, vasoactive medications, renal replacement therapies as well in a host of critical care procedures. HUMC is also home to the highly regarded John Theurer Cancer Center, and PCCM fellows will become experienced in the care of critically ill oncology and post-transplant patients. Ultrasound is available for bedside diagnostics as well as procedures. There are daily multi-disciplinary rounds including representatives from Pharmacy, Nursing, Respiratory Therapy, Palliative Care & Ethics.
Pulmonary Consultation
Trainees will work with a number of highly skilled Pulmonologists and gain exposure to the full spectrum of pulmonary diseases including asthma, bronchitis, pneumonia, malignancies, interstitial lung diseases, and pulmonary vascular disease.
Pulmonary Laboratory
In addition to routine pulmonary function testing, the HUMC Pulmonary Lab has a comprehensive Exercise Physiology Lab, and beginning in 2013, also performs right heart catheterization with exercise. The trainee will become skilled in the performance and interpretation of cardiopulmonary exercise tests.
Fellows will perform bronchoscopy under the supervision of HUMC faculty. In addition to routine bronchoscopy, HUMC's busy Bronchoscopy Suite includes endobronchial ultrasound, navigational bronchoscopy, bronchial thermoplasty and ultrasound-guided pleural procedures.
Sleep Medicine
PCCM fellows evaluate and help manage patients referred for a broad range of sleep disorders. They will become familiar with testing, study interpretation and long-term management of such patients. Sleep medicine expertise and supervision is provided by the HUMC PCCM fellowship site director, Dr. Hormoz Ashtyani.
Electives & Research
Fellows will have an opportunity to select from a wide array of clinical electives at each training site throughout the 3 year program.
Fellows actively participate in a spectrum of clinical research opportunities available at each institution and may also develop and carry out their own mentored research project. Fellows are encouraged to present their findings at a specialty-specific society meeting and/or submit their results for publication. Each of these projects will be mentored from beginning to end by a faculty member and progress will be monitored by the program director. Dedicated time for research is available throughout the 3 year training period.
Many NJMS – Rutgers fellows present their work at the American Thoracic Society and American College of Chest Physicians' national meetings.