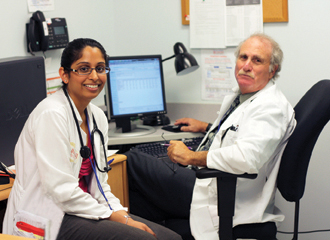 Everyone has something to offer as a mentor and everyone can benefit from mentoring. A mentor can be a valued guide and inspiration - an invaluable influence on one's professional or personal success. Studies have shown that people who have mentors demonstrate enhanced work and careet satisfaction, improved professional development, enhanced research productivity, better teaching and improved leadership skills.
Purpose and Goals

The Rutgers NJMS Department of Medicine Residency Training Mentoring Program was developed to promote professional growth and career development among all resident physicians. While each individual is ultimately responsible for his/her career development, a specific mentoring program represents an important resource to aid physicians in their career progression.
The goals of the mentoring program are to 1) provide access to mentoring for those who would not otherwise find someone to give them job and career support and 2) provide guidance to junior physicians about career enhancement issues from senior physicians.
Benefits of the Mentoring Relationship
Senior physicians have an opportunity to share their experience and perspective with someone who could greatly benefit from their knowledge. It should be a rewarding experience for both parties.
Mentors will gain the satisfaction of helping a new physician define and attain goals by identifying options, planning strategies, improving interpersonal communication, and learning new skills. By motivating others and utilizing counseling and other management skills, you may improve your own supervisory skills and learn more about the viewpoint and opinions of junior physicians. This interaction may also inspire you to reflect upon your own goals and performance.
Mentees will obtain guidance in defining and achieving goals, connecting interpersonally with caring, encouraging senior advisor, receiving constructive feedback and acquiring objective and credible information.