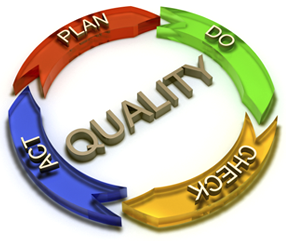 QA/QI Program
Quality Assurance/Quality Improvement projects are initiatives that focus on one or more clinical or non-clinical area(s) with the aim of improving health outcomes and beneficiary satisfaction. The NJMS Internal Medicine Residency Program provides a robust and structured QA/QI experience for all trainees that allows residents to actively participate in improving the care provided to our patients.

New residents complete the Institute for Healthcare Improvement's Open School basic course in the start of their PGY-1 year. This online educational curriculum provides the appropriate framework for residents to participate in QA/QI projects. Our program spans all three training sites in both inpatient and outpatient settings. The structure allows residents to assess their practice for quality indicators, to formulate an improvement plan, and to follow-up on the outcomes, all with progressive growth of responsibility and leadership through their training.
Each resident QA/QI team meets with faculty mentors and a designated Chief Resident for QA/QI every two months during ambulatory blocks. Teams are provided with feedback and direction, and progress goals for each meeting are clearly outlined at the start of academic year:
Meeting 1: Literature search, formulate QA/QI question, complete CITI training
Meeting 2: Complete the protocol, submit IRB
Meeting 3: Data collection, preliminary analysis
Meeting 4: Data review and statistical analysis
Meeting 5: Abstract/ poster ready for review
Since launching in 2012, the program has resulted in statistically significant improvements in patient care in a number of different areas. For example, AAA screening has increased by 40% in the outpatient resident clinic, and smoking cessation counseling has increased by 30%. Fifteen projects have been presented at national and regional conferences, including several award-winning posters and oral presentations.