Welcome from our Chair of Surgery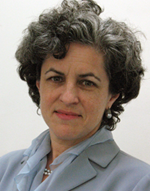 I was honored to become the third Chair of the Department of Surgery, following in the distinguished footsteps of Dr. Edwin Deitch and Dr. Benjamin F. Rush, Jr. They are big shoes to fill, but I hope to carry on the long tradition of academic and surgical excellence they established. Founded by Dr Rush in 1969, as part of the then, new University of Medicine and Dentistry of New Jersey, the Department grew over the next twenty-five years under his leadership, to become nationally recognized in surgical research and education, and a major provider of cutting edge surgical care in the region. Dr Deitch assumed the chairmanship in 1994, expanding the department to include ten surgical divisions, developing many with the national prominence we enjoy today. Under his leadership, the Department flourished, becoming one of the top ten Departments of Surgery in NIH research funding, and one of the most highly sought after surgical residency programs in the nation. Over the forty-five years of our history, we have trained over six hundred surgeons, many who have gone on to be leaders in their own right.
I am proud to carry on this great legacy, and look forward to leading the Department forward to new heights, -expanding our high quality specialty services, both here in Newark and out into the region, developing new centers in clinical, translational, outcomes and practice based research, and advancing educational innovation in our surgical training programs. As part of Rutgers University, we have tremendous opportunity for collaboration with our sister schools, and new alignment with University Hospital and others.
Surgery's Superstar - Dr. Mosenthal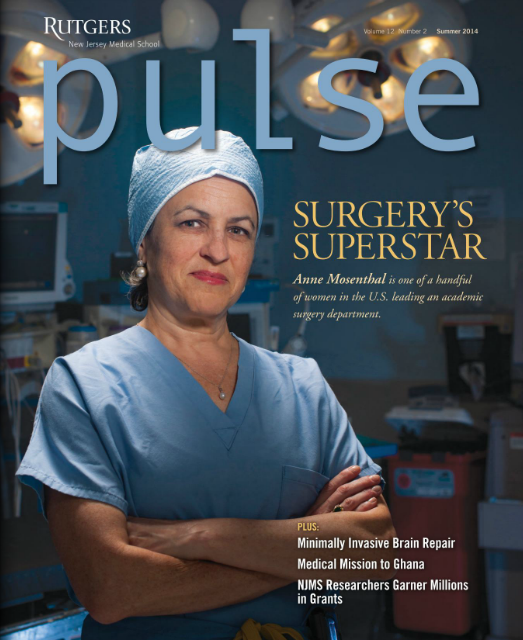 We are pleased that our Chair, Dr. Anne C. Mosenthal is featured on the cover of the summer 2014 edition of Pulse magazine! She is one of a handful of women in the U.S. to lead an academic surgery department. Her leadership establishes her as a distinct role model for future surgeons. This edition also offers our readers the exciting opportunity to have a closer look at the innovative research and medical contributions made by our leading faculty, residents and fellows, and our staff! Inside, you can read about our most recent ISHI Mission trip to Ghana where top surgeons cared for patients in desperate need of surgical care. Readers also get a first-hand introduction to Jonathan Keith, MD who leads the new Breast Reconstruction Program at NJMS. Pulse magazine features a wide range of medical news, including a showcase of updates about our recent alumni and their work with medicine. We want to offer our readers the opportunity to be a part of the NJMS community! Click on the cover photo to read the full magazine.