Students for Humanism in Medicine
ALL E.A.R.S.
Encouraging Active Reception and Self-reflection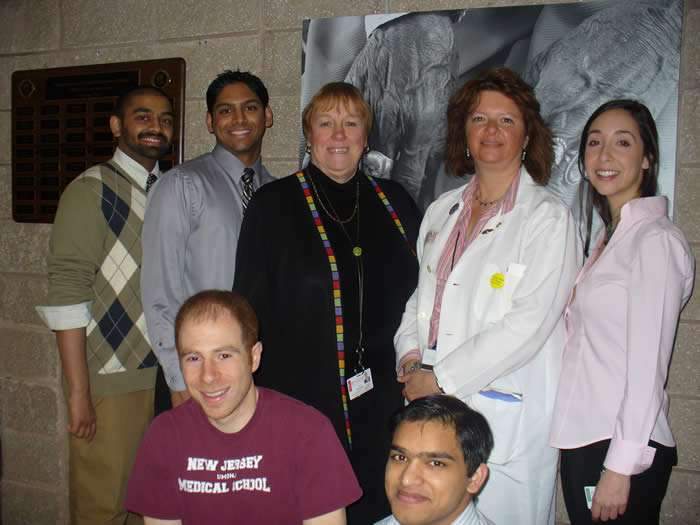 All E.A.R.S. is a program in which students have the opportunity to interact with patients and family members here at UH who would otherwise have no one to talk to. This is accomplished in conjunction with Sue Walther, A.P.N. and Dr. Pat Murphy, who identify patients they feel would benefit from interaction with students. These patients are often terminally ill, lonely, and facing long hospitalizations. Our role as students in this program is to provide social support with the aim of alleviating some of the hardships experienced by these patients. We work towards achieving the following goals:
Goals:
For University Hospital patients and the Newark community:
To fill a recognized void of basic human interaction and support on a more personal level than currently encountered through our varying preceptorship/clerkship experiences:
by providing a listening ear to patient/family concerns and fears when needed, in an attempt to maintain and encourage patient dialogue.
by providing an outlet for any type of patient communication and interaction which may not have a direct effect on a patient's physical health, but will hopefully promote a unified peace of mind and body.
For NJMS students:
To provide students meaningful, interpersonal interaction with socially isolated patients in a needing environment, in hope of:
creating an opportunity for self-reflection (possibly through parallel charting), creative expression (for example, through music and writings), and personal/professional growth.
fostering our students' existing sense of compassion, empathy, altruism, and humanism.
encouraging greater interclass unity among the student body.
providing an opportunity for upperclassmen to develop important mentoring skills.