Center for Immunity and Inflammation
Karen L. Edelblum, Ph.D.


Cancer Research Center (CANCT)
195 South Orange Avenue Room G1228

Phone: (973) 972-3071
Fax: (973) 972-2939
Biography
Overview
Dr. Edelblum began her training in the Department of Cell & Developmental Biology at Vanderbilt University. During her graduate training, Dr. Edelblum focused on the role of Raf-1 kinase in intestinal epithelial cell survival downstream of pro-inflammatory cytokine signaling and in response to acute colitis. Fascinated by the synergy between immunological, epithelial and microbial factors during the pathogenesis of colitis, she continued her training at The University of Chicago where she developed novel advanced live imaging approaches to visualize immune/epithelial interactions in the intestinal mucosa during exposure to enteric pathogens. Combining traditional cell biology and mucosal immunology techniques has allowed Dr. Edelblum to investigate gamma delta T cell migration and how direct contact between gamma delta T cells and enterocytes confer protection against enteric pathogen invasion. Dr. Edelblum's long-term research interests are to identify how gamma delta T cell/epithelial interactions shape innate immune responses to pathogenic and commensal bacteria as a means to treat inflammatory bowel disease.
Education
Ph.D., 2008, Vanderbilt University
B.S., 2002, Emory University

Curriculum Vitae
Publications
Relevant Publications:
Edelblum KL, Washington MK, Koyama T, Robine S, Baccarini M, Polk DB. "Raf protects against colitis by promoting mouse colon epithelial cell survival through NF-kB." Gastroenterology. 2008 Aug;135(2):539-51. PMID: 18598699
Edelblum KL, Goettel JA, Koyama T, McElroy SJ, Yan F, Polk DB. TNFR1 promotes TNF-mediated mouse colon epithelial cell survival through Raf activation of NF-kB. J Biol Chem. 2008 Oct 24;283(43):29485-94 PMID: 18713739
Edelblum KL, Turner JR. "The tight junction in inflammatory disease: communication breakdown." Curr Opin Pharmacol. 2009 Dec;9(6):715-20. PMID: 19632896
Marchiando AM, Shen L, Graham WV, Edelblum KL, Duckworth C, Guan Y, Montrose MH, Turner JR, Watson AJ. The epithelial barrier is maintained by in vivo tight junction expansion during pathologic intestinal epithelial shedding. Gastroenterology. 2011 Apr;140(4):1208-1218.
Edelblum KL, Shen L, Weber CR, Marchiando AM, Clay BS, Wang Y, Prinz I, Malissen B, Sperling AI, Turner JR. Dynamic migration of gamma delta intraepithelial lymphocytes requires occludin. PNAS. 2012 May 1;109(18):7097-102. PMID: 22511722
Edelblum KL. Mouse Models of Inflammatory Bowel Disease: Mechanistic Insight into Current and Future Therapeutics. X. Wang (Ed.), Translational Animal Models in Drug Discovery and Development. Bentham Scientific Publishers. October 2012.
Nalle SC, Kwak HA, Edelblum KL, Joseph NE, Singh G, Khramtsova GF, Mortenson ED, Savage PA, and Turner JR. Recipient NK cell inactivation and intestinal barrier loss are required for MHC-matched graft-versus-host disease. Sci Transl Med. 2014 Jul 2;6(243):243ra87. PMID: 24990882
Edelblum KL, Singh G, Odenwald MA, Lingaraju A, El Bissati K, McLeod R, Sperling AI and Turner JR. Gamma delta intraepithelial lymphocyte migration limits transepithelial pathogen invasion and systemic disease in mice. Gastroenterology. 2015 Jun;148(7):1417-26. PMID: 25747597
Edelblum KL, Turner JR; Chapter 12: Epithelial Cells: Structure and Barrier Function; In: Mucosal Immunology, 4th Edition; J. Mestecky, M. Russell; 187-210; Academic Press/Elsevier, Waltham, MA, 2015.
Edelblum KL, Sharon G, Singh G, Odenwald MA, Sailer A, Cao S, Ravens S, Thomsen I, El Bissati K, McLeod R, Dong C, Gurbuxani S, Prinz I, Mazmanian SK, Turner JR*. The microbiome activates CD4 T-cell-mediated immunity to compensate for increased intestinal permeability, Cell Mol Gastroenterol Hepatol. (2017);4(2):285- 297. doi: 10.1016/j.jcmgh.2017.06.001.
Current Research
Investigating the role of gamma delta intraepithelial lymphocytes in mucosal immunity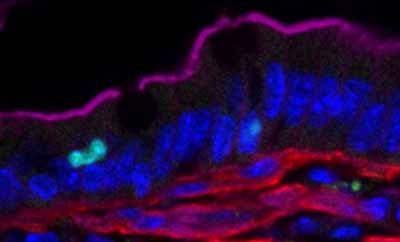 Our lab focuses on understanding the role of gamma delta intraepithelial lymphocytes (IEL) interactions within the intestinal epithelium in the regulation of mucosal innate immunity. We use both in vitro and in vivo models in conjuction with state-of-the-art imaging techniques to identify how gamma delta IEL motility can be used as a potential therapeutic in the treatment of inflammatory bowel disease.