Department of Pharmacology, Physiology & Neuroscience
| | |
| --- | --- |
| | Vijayalakshmi Santhakumar, Ph.D., MBBS |
Biography
Overview
Viji Santhakumar developed a deep interest in understanding brain function at the level
of
neurons and networks during medical school and her subsequent stint as a practicing
physician. She joined the University of California, Irvine in 1998 to pursue basic-
science research on hippocampal plasticity after brain injury. Her doctoral studies
established the role of concussive brain injury in decreasing seizure thresholds and led
to the discovery of key synaptic and cellular processes underlying post-traumatic
epilepsy. Realizing the need for an integrated approach, Dr. Santhakumar exploited
computational modeling techniques and developed biophysically-realistic dentate network
simulations to gain mechanistic insights into limbic epileptogenesis. Her simulations, a
benchmark for data-driven network modeling in the NEURON tool, are currently adopted by
several groups. Following successive postdoctoral studies at UCLA where she identified
the contribution of tonic inhibition to cerebellar and striatal function, Dr.
Santhakumar
was recruited as an Assistant Professor to NJMS in October 2008 and is currently an
Associate Proferror in the Department of Pharmacology, Physiology and Neuroscience.
Physiology.
Education
Ph.D., 2003, University of California, Neuroscience
MBBS, 1994, Kilpauk Medical College, Clinical Medicine

Curriculum Vitae
Publications
Relevant Publications:
Yu J, Swietek B, Proddutur A, Santhakumar V (2016). Dentate cannabinoid-sensitive interneurons undergo unique and selective strengthening of mutual synaptic inhibition in experimental epilepsy. Neurobiology of Disease. May;89: 23-35. DOI: 10.2016/j.nbd.2016.01.013.
Yu J, Proddutur A, Swietek B, Elgammal F, Santhakumar V (2015, in Press) Functional reduction in Cannabinoid-Sensitive Heterotypic Inhibition of Dentate Basket Cells in Epilepsy: Impact on Network Rhythms. Cerebral Cortex. DOI: 10.1093/cercor/bhv199
Yu J, Swietek B, Proddutur A, Santhakumar V (2015, in press) Dentate total molecular layer interneurons mediate cannabinoid-sensitive inhibition. Hippocampus. Jan 20. DOI: 10.1002/hipo.22419.
Li Y*, Korgaonkar A*, Swietek B , Wang J, Elgammal FS, Elkabes, S, Santhakumar V. (2015) Toll-like receptor 4 augments mossy cell AMPA currents and contributes to NMDA receptor- independent increase in dentate excitability after brain injury. Neurobiology of Disease. Feb;74:240-53 DOI: 10.1016/j.nbd.2014.11.021* Equal Contribution.
Proddutur A, Yu J, Elgammal FS, Santhakumar V. (2013) Seizure-induced plasticity of fast- spiking basket cell GABA currents modulates frequency and coherence of gamma oscillation in network simulations. Chaos: Dec;23(4):046109
Yu J*, Proddutur A*, Elgammal FS, Ito T, Santhakumar V (2013) Status epilepticus enhances tonic GABA currents and depolarizes GABA reversal potential in dentate fast-spiking basket cells. The Journal of Neurophysiology 109: 1746-1763
Gupta A, Elgammal FS*, Proddutur A*, Shah S, Santhakumar V (2012) Decrease in Tonic Inhibition Contributes to Increase in Dentate Semilunar Granule Cell Excitability after Brain Injury. The Journal of Neuroscience 32(7): 2523-2537.
Santhakumar V, Hanchar HJ, Wallner M, Olsen RW & Otis TS (2006) Contributions of the GABAA Receptor Subunit a6 to Phasic and Tonic Inhibition Revealed by a Naturally Occurring Polymorphism in the a6 Gene. Journal of Neuroscience 26(12):3357 –3364.
Santhakumar V, Voipio J, Kaila K, Soltesz I (2003) Post-traumatic hyperexcitability is not caused by impaired buffering of extracellular potassium. Journal of Neuroscience 23(13):5865-76
Santhakumar V, Ratzliff AD, Jeng J, Toth K, Soltesz I (2001) Long-term hyperexcitability in the hippocampus after experimental head trauma. Annals of Neurology 50: 708-717.
Current Research
Plasticity in Epilepsy and Brain Trauma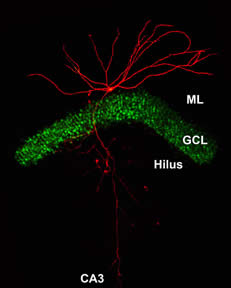 The Santhakumar lab focuses on inhibitory plasticity in epilepsy. Brain injury is a major
area of research in our lab – our team has discovered that inhibitory dysfunction in a
rare and novel neuron may result in early post-injury hippocampal hyperexcitability.
Currently, we are examining the contribution of synaptic plasticity and neuro-immune
responses to interneuronal pathology and post-traumatic epilepsy. In parallel, our lab is
investigating the differential effect of slow, concussive versus rapid, blast-like brain
injury on cellular damage and neurological outcome. A second major area of interest is in
understanding the mechanisms and consequences of interneuronal diversity and communication
in epilepsy. We have identified the presence, and seizure-induced enhancement, of
extrasynaptic GABA currents in inhibitory neurons critical for feedback regulation of
hippocampal excitability. Using a powerful combination of electrophysiological and
computational approaches we are currently evaluating how plasticity of synaptic,
extrasynaptic and electrical interactions among interneurons impact hippocampal function
in epilepsy. With research funding from the NIH/NINDS, New Jersey Commission for Brain
Injury Research, Epilepsy and CURE Foundations, our lab continues to research the
fundamental mechanisms underlying development of epilepsy and co-morbidities such as
cognitive and memory dysfunction.