Office of Finance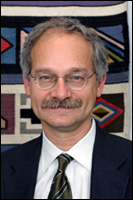 David Roe, MBA
Associate Dean and Chief Financial Officer
Medical Science Building, C-658
Phone: (973) 972-1412
Fax: (973) 972-1272
E-Mail: roeda@njms.rutgers.edu

Mission Statement
In a spirit of excellence, integrity, and dedication, the Dean's Finance Department provides financial guidance while managing NJMS resources.
We are committed to the following:
Developing, maintaining, and providing effective and accurate financial planning/analysis, budgeting, reporting, and central support systems in support of the NJMS Dean, the students, the academic and administrative departments, and the University community at large in achieving their objectives in a timely, impartial, and clear manner;
Managing and maintaining financial records in compliance with Policies and Procedures;
Providing and promoting the highest standards of accounting and financial reporting in conjunction with the School's and University's missions;
Ensuring the optimum utilization of the School's resources, which include developing and promoting administrative excellence, based on values of professionalism, integrity and personal responsibility,and service.
In support of the Mission Statement, our values are:
Accountability
We aim to operate in an ethical and fiduciary manner in handling NJMS resources.
Customer Service
We serve the NJMS community and others by performing our tasks in a timely, consistent, and accurate manner. When interfacing with the NJMS community and others, we are professional, knowledgeable, courteous, and efficient. Our goal is to develop and maintain lasting relationships.
Teamwork
We respect the experience and skills of our staff and value the contribution that every person makes to the Finance Office. We recognize that pride and job satisfaction comes from leadership, commitment, camaraderie, and accomplishment.
Ownership
We are responsible for the financial data as it relates to NJMS. Therefore, we perform our duties to the best of our abilities and take pride in our work.
NJMS FINANCE STAFF

Medical Science Building - C662