PHRI: Six Decades of Fighting Infectious Diseases
By Genene W. Morris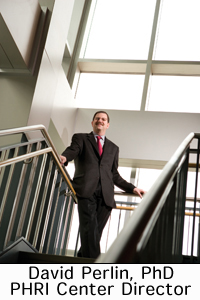 At the dawn of the antibiotic era, a small research operation was formed in New York City to study infectious diseases. Established in 1941 as an independent, not-for-profit biomedical research organization in association with the New York City Department of Health, the Public Health Research Institute (PHRI) comprised luminaries whose work yielded remarkable discoveries and helped to shape modern-day science.
PHRI, whose first Board of Directors included respected leaders like David Rockefeller, Sr., current patriarch of the Rockefeller family, and former New York Mayor Fiorella H. LaGuardia, ultimately relocated to Newark in 2002. Today, it is part of New Jersey Medical School . Its world-renowned scientists have expertise in a variety of fields including virology, immunology, genetics, biochemistry and bacteriology. Their research on HIV/AIDS, tuberculosis, MRSA (Methicillin-Resistant Staphylococcus aureus ) and other infectious diseases routinely bring them to such distant regions as South Africa, Europe, China, Russia, among other places.
PHRI Center Director David Perlin, Ph.D., sat down for a lengthy interview about PHRI, its history, its formula for success and the future of this internationally regarded research organization. Here are excerpts from the interview:
Q: Let's start from the beginning. How did PHRI come into existence?
A: PHRI started in New York in 1941. At the time, it was established as a quasi research arm of the New York City Department of Health. The Institute had a very strong role in what was called the Bureau of Laboratories, which served to handle the laboratory functions for the city of New York . At the time, the New York City Department of Health was one of the best in the country, dealing with lots of problems: polio, small pox, diphtheria, whooping cough. This was at the dawn of the antibiotic era so these were the sort of normal infectious disease problems of the time.
Q: Were antibiotics becoming more readily available to the masses?
A: It had just entered into clinical practice and was still being used somewhat experimentally. If you look at hospitals and what people were dying from, it was not heart disease and cancer; they were dying from infectious diseases. PHRI was established to attract some of the high-quality basic science that was taking place in New York City and direct it toward more health-related areas.
Q: Who were some of the trailblazers at PHRI?
A: It turns out that on the early faculty there were luminaries in different fields: in virology, immunology, biochemistry, genetics, and bacteriology. PHRI very quickly established a reputation for high quality science and ultimately produced some of the leading scientists in America with a number being named to the National Academy of Sciences. Several former PHRI faculty were honored with Lasker awards (3) and a Nobel Prize for work pioneered at PHRI.
Unfortunately for PHRI, many of those scientists wound up establishing their careers and then leaving and going to places like Columbia University , Cornell University and Rockefeller University .
For example, Eric Kandel spent time at PHRI, as well as at NYU as a faculty member. He left to go to Columbia and went onto get the 2000 Nobel Prize in Physiology or Medicine for his work on learning the physiological basis of memory storage. Much of that early work was developed at PHRI.
Ephraim Racker was also one of the luminaries in biochemistry. His discovery of the isolation and characterization of the mitochondrial ATP synthase and how cells make their energy source, ATP, was one of the fundamental discoveries in biochemistry. That discovery was made at PHRI. He then left in the mid 1960s to take the Einstein Chair at Cornell University .
Dr. Hidesaburo Hanafusa was a faculty member who came from the University of California in Berkeley . His pioneering studies at PHRI helped shape the science of oncogenes. He then left to go to Rockefeller University .
One of the first faculty members, Jules Freund, helped develop the adjuvant theory for immunology - for vaccine development. Freund's adjuvant is still one of the premier ways to boost the immune system when you give a vaccine.
Our former director, George Hirst, was one of the pioneers in influenza research. It was his research on influenza that led to some of the first tests for Flu, which are still used today.
Sarah Ratner was one of the early women luminaries in science. Her studies of nitrogen metabolism in cells helped lead to tests in infants for various diseases. These are all individuals who helped shape modern science.
Q: How has PHRI evolved over the years?
A : PHRI was long funded by the Research Council of New York City. That changed for the institute in the mid 1970s during the fiscal crisis. New York City withdrew its support. When that happened, PHRI went through a transition period. We went from having a very strong public health component to becoming fundamentally a basic research organization funded by the National Institutes of Health (NIH). The trend had already begun in the 1960s and it continued through the 1970s and 1980s. There was a strong emphasis on basic research and not as much on translational research within PHRI.
One of our previous directors, Richard Novick, a National Academy of Sciences member and luminary in the field of Staphylococcus aureus , wanted basic research as the cornerstone of PHRI. And so he helped to recruit what he saw as the best possible researchers irrespective of the field. But I think as the 90s rolled around it became clear that if we were going to compete for private sector funds, we needed a more focused mission. We got a little taste of this because in the late 1980s early 1990s, we helped create what's now one of the leading AIDS research centers, the Aaron Diamond AIDS Research Center in New York City.
We realized there's value here. If you create a focused activity, people will respond.
We also put greater emphasis on translational research. For example, we do rapid diagnostics to identify disease-causing agents and try to apply that clinically. That aspect is where science has changed the most and where we've changed. Basic science is still the key to discovery. But these discoveries represent opportunities to impact clinical care and patient outcomes. We don't treat patients but by working closely with clinicians, we can then help in managing patients, in tracking disease, stopping epidemics and in developing new diagnostics which can detect things like tuberculosis, MRSA and SARS (severe acute respiratory syndrome).
Q: What is PHRI's formula for success?
A: For us to be really successful, we have to be really aggressive. We have to understand what the bigger issues are out there. You have to be aggressive because your livelihood is on the line.
When New York withdrew its support of PHRI, the National Institutes of Health stepped in and encouraged us to apply for grants. The NIH support is really what propels us along. As funding levels have dropped - and they've dropped precipitously - we have been fortunate. We have a number of individuals who are leaders in their fields and because of this, we have been able to weather, at least for the time being, this downturn in grant funding. In addition to maintaining our NIH portfolio, we have also competed very effectively for Bill & Melinda Gates Foundation grants, as well as other privately funded grants.
We're soft money which means every single faculty member at this institute pays his or her salary and pays for his or her own research program. If you lose your research funding, you lose your salary, you lose your program, and you lose your job. There is no safety net.
Q: Why are people willing to work under such uncertain circumstances?
A: People have said to me, 'Wow, you must be crazy to live in that kind of environment.' Many of my faculty are constantly being recruited. The reason they stay is multifold. In particular it has to do with environment. No matter where you are, whether you have a tenured, full-faculty salary at a university or within a research institute, soft money, like we are, if you want to do research then you have to believe in your research. So it doesn't matter if I have my full salary covered. Ultimately if what I'm about is doing research, I have to be able to do that work and I need to do it in the best possible environment. For those of us who have been around PHRI - and if you look at the tenure list people have been here for 15, 20, 30, 35 years - they stay in this environment, paying their own salary, paying for their research programs because they believe their success is derived from the environment. We have lunch together; we talk together; we have joint seminars together. We read each other's grants; we serve on international committees; we serve on NIH study sections. We help each other.
We have in the International Center for Public Health building some of the best facilities for doing infectious disease work anywhere. With all the building that's going on throughout the country, there are very few facilities that rival this one, especially for the type of work we do. We have a very big and strong tuberculosis research program, probably one of the best in the country. If you look at the PHRI group and New Jersey Medical School - Bill Gause, David Alland, Padmini Salgame, Jerry Ellner, Kevin Fennelly, Lee Reichman with the Global Tuberculosis Institute - you have right here one of the strongest concentrations of tuberculosis research, from the bench to bed anywhere, and I think for our core strength this is very important.
We have the biosafety level 3 (BSL3) facilities that are really unmatched for doing this type of work. And now with the Regional Bio-containment Laboratory (an advanced research facility for the study of infectious diseases with a focus on newly emerging infectious diseases and diseases caused by agents of bioterrorism) about to come online, we're going to greatly increase our capacity.
Q: How did PHRI's move to Newark come about?
A: In the early to mid '90s we were outgrowing our space in New York . We had this very large tuberculosis group. We had a very small bio-safety level III lab and it was running literally 24 hours a day, 7 days a week. New York City didn't have the money to spend on us. We were in a New York City building and they were charging us rent. We had to a decision to make: Did we want to continue to pay high rent in the City for our space or did we want to look around. We decided we would look in New York City . We looked at Columbia and Mount Sinai . They were very happy to entertain taking us, but they made it very clear that they would determine how PHRI operates. We wanted to keep the Institute intact and so New Jersey became an option largely because we had been working with the New Jersey Department of Health and Senior Services on tuberculosis. It became clear this would be a good fit for us.
Q: You have been with PHRI since 1985 and have served as its scientific director since 1992. What do you see your role as being?
A: We have a very interactive management strategy within the PHRI Center . We have an executive committee composed of senior and junior faculty members. We work together. They provide the guidance and my job is to execute what they want. My job is not to tell the scientists what to do. I don't have any input into their science. What I do is execute strategies that we've developed. I meet with companies, foundations and funders and create opportunities. I need to be able to create paths and make sure that those paths have some footing, and that they can be easily navigated.
Q: Let's talk about the work PHRI does abroad.
A: We have research collaborations around the world and have major expanding clinical research programs in South Africa and China . For example, we work in a fabulous TB clinic in South Africa . It serves about 20,000 people in an incredibly poor township where you have 25 percent HIV rates and very high rates of tuberculosis.
Gilla Kaplan (professor of Medicine and the recipient of a $1.5 million grant from the Bill & Melinda Gates Foundation for a study aimed at improving tuberculosis treatment methods) was born in South Africa . She has a number of studies being conducted at the University of Cape Town in Cape Town , South Africa , and is one of the world's leading experts in tuberculosis and leprosy.
Those international programs are very important to us. Tuberculosis, drug resistant infections like MRSA are not domestic problems, per se. They're global problems and so the problems we see in the United States are pertinent to Europe , to Asia , to Africa . For us, we see all these things connected, and we want to understand whether there is a difference in drug resistant tuberculosis in Russia and Russian prisons versus what we see in China versus what we see in HIV-infected individuals in South Africa . You know, one of the things we have said over and over again to our faculty that work in these areas, 'If you're going to work on tuberculosis, one of the slowest growing bacteria that we know, you don't work on it because it's a great model system. You work on tuberculosis because it infects one-third of the world's population and kills 2 million people a year.'
While it's nice to study tuberculosis in South Africa , China , India , and Europe , we've got a lot of TB right here in the United States and we can't forget it. We don't want to become so detached from our local community. On this point, Dr. Barry Kreiswirth's group is still molecular typing TB strains from New York and New Jersey .
Q: How does PHRI work with the local community?
A: We recognize and want to contribute to the local community. That's why we run our high school minority student summer program. We bring students in from high schools in and around Newark to participate in this highly competitive program, which exposes them first-hand to profession research. These kids have a genuine interest and youthful enthusiasm. They're able to handle the work. Dr. (Yakkov) Saturen has been running the program for a long time. We interview and recruit the students. We bring them in, train them and then we bring them into the labs and they do research projects. It's not a babysitting program. They must conduct supervised research, which is presented at weekly meetings. They meet with PHRI scientists and attend research lectures. It's a very busy summer for these kids and in the Fall they give a big PowerPoint® presentation at an annual symposium. We've had a number of students who said that the program more or less changed their lives, and what more can you ask than that.
Q: What does the future hold for PHRI?
A: I played a lot of chess as a kid. You have to always think ahead. In science, if you're content with where you are, you're dead in the water. You have to keep thinking ahead: 'Where is this going? Where am I going? How am I going to get there? Where do we need to be positioned?'
PHRI is determined to expand its prominence as a leading center for infectious diseases research. Our understanding of certain diseases and intervention strategies - for example vaccines, antibiotics, etcetera - is changing. PHRI needs to be flexible and dynamic to be a major contributor in the new era of infectious diseases research. It needs to expand the dimensions of its research to involve other disciplines, and it needs quality partnerships around the world. We also need to engage investigators and clinicians within UMDNJ to support translational research programs. There's so much good science here, and some of it can be applied immediately to the clinic. We need to continue to work on the translational component of our work. At the same time, we need to remember that the engine for discovery is basic science, and it must be strengthened. We also need new young investigators to expand the breadth of our science and carry forth decades of research excellence. One of the areas we felt we were lacking in several years ago was the field of structural biology, so we recruited two new structural biologists. Recently, we finally had equipment installed for an X-ray generator for crystallography. We need to continue to expand and build on disciplines which we feel are fundamental to the type of work that is critical to our mission. We can and must do all of these things.
As a component of New Jersey Medical School , we are committed to the interests of science and representing the University the best way possible.