Welcome from the President
Paul J. P. Bolanowski, MD'65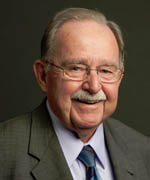 My affiliation with the New Jersey Medical School began in 1961, when I began my first year as a medical student at the New Jersey College of Medicine. After graduation, I did a 2-year surgical residency at Yale-New Haven and then served 2 years in the army and in Vietnam. When my service was over, I returned to NJMS in 1969 and completed my general and cardiothoracic surgery residency at NJMS under Dr. Benjamin Rush, where I have remained for the past 45 years, participating in both surgery programs. Over the years, I have devoted much time and effort as an active member in many organizations, including the Faculty Organization, Faculty Practice Service (now the UPA) and the Board of Concerned Citizens. Now, as I am reaching the culmination of my career at NJMS, it is with great pleasure that I am able to serve as President of the Alumni Association.
I could not be more proud to represent the Medical School, its students and alumni that I have had the pleasure to serve and work with throughout my entire career. As President, I hope to remind students and alumni of the importance of the basic principles of medical care and work to further improve the quality of medical education that the students receive at NJMS.
Each year, the Alumni Association is proud to award over $150,000 in scholarships to over 100 students. Many of the students not only excel academically and match in some of the most competitive and desirable residency programs, but also devote their time to actively participate in community education and service outreach programs and organizations. Even though we are now part of Rutgers, the Alumni Association continues to carry out our mission and direct our efforts towards the support of our deserving medical students through scholarships and sponsorship of student programs.
As always, I encourage alumni to let me know how we can build closer relationships with you. Please share your suggestions or ideas for Alumni Reunion or other events. We want to know what is meaningful to you and what we can do to make you feel more connected to your alma mater. If you have any questions about our Scholarship program or how to become involved, please do not hesitate to contact me or the Alumni Office staff at (973) 972-6864 or email: njmsalum@njms.rutgers.edu. You may also visit our Facebook page at: www.facebook.com/AlumniNJMS
I look forward to hearing from you!