Rutgers Radiation Research History
Harrison S. Martland's Research Proved that Ra-226 Caused Death of the Radium Dial Painters
Harrison S. Martland, MD

Chief Medical Examiner

Newark, NJ

Harrison S. Martland Medical Center, Newark, NJ. 65 Bergen Street, Newark, NJ. Now renovated as the flagship administrative building for Rutgers Biomedical Health Sciences..
Harrison Stanford Martland, the son of Dr. William Henry and Ida (Carlyle) Martland, was born in Newark on September 10, 1883. Harrison Martland received a BS degree from Western Maryland College in 1901. After receiving his MD degree from the College of Physicians and Surgeons of Columbia University in 1905, he served an 18-month internship at the municipal New York City Hospital on Welfare Island. He then spent a period of two years in Pathology and Bacteriology at the Russell Sage La
Dr. Martland accepted the appointment of the first full-time paid pathologist at the Newark City Hospital in January 1909. On November 16, 1910 he married Myra C. Ferdon and they purchased a house at 180 Clinton Avenue, Newark, which was to be their home until his death in 1954. When World War I broke out, Dr. Martland joined the Bellevue Hospital Unit and as a lieutenant colonel he took charge of a hospital in Vichy, France. He later was awarded a Citation for Exceptionally Meritorious and Conspicuous Service by General John Pershing.
In June 1925 Dr. Martland was chosen to fill the post of Essex County Physician. Immediately, he saw the danger of divided authority in the system that allowed a coroner's jury of laymen to decide causes of sudden death therefore, he set out to establish the medical examiner system in Essex County. He won his fight in the State Legislature and the county government in March 1927, and was appointed Chief Medical Examiner by the Essex County Board of Freeholders. In April 1933, Dr. Martland was named Professor of Forensic Medicine at New York University, a post he held for fifteen years.
Dr. Martland made important contributions in the fields of pathology and forensic medicine. The work that attracted the most attention was his research begun in 1924, on the effects of radioactive material on the human body. Dr. Martland determined that minute traces of radioactivity contained in luminous paint had caused the deaths of watch dial painters employed at the US Radium Corporation in Orange, NJ. The Atomic Energy Commission (AEC) credits Dr. Martland's work with having made it possible for atomic development to proceed with comparative safety. At the request of the AEC, Dr. Martland prepared a permanent exhibit on radioactive dangers and precautions which is on display in Oak Ridge, Tennessee.
After forty-five years as Newark City Hospital Pathologist and twenty-five years as Essex County Medical Examiner, Dr. Martland retired in November 1953. He died on May 1, 1954 at the age of 71.
Martland Archives at the Rutgers George Smith Library
Dandamudi V. Rao Demonstrates In vivo Radiotoxicity of Auger Electron Emitting Radionuclides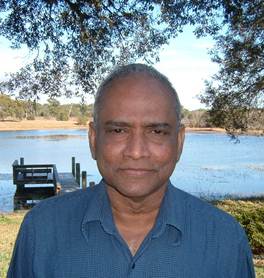 Emeritus Professor Dandamudi Vishnuvardhana Rao is world-renown for his research on dosimetry and radiobiology in nuclear medicine. More specifically, his work on the relative biological effectiveness (RBE) of radiopharmaceuticals that emit low-energy Auger electrons showed that they can be extremely radiotoxic in vivo. Dr. Dandamudi Vishnuvardhana Rao was born to Sri Veeraraghavayya and Smt. Sarojini on April 5th, 1944 in a small farming village named Maredumaka near Vijayawada, AP, India. He attended local government schools for his primary and high school education. To attend high school, he had to cross two irrigation canals and walk about 7 km each day through rice paddy fields. He matriculated at Hindu College, Machilipatnam, AP, India for his undergraduate studies in physics and graduated with a Bachelor of Science degree in 1964. Soon after, he began post-graduate studies in Nuclear Physics at Andhra University, Visakhapatnam, AP, India and received his first Masters degree in 1966. After completion of his studies, he married his wife Sujatha Anne.
Dr. Rao was admitted to the University of Massachusetts, Amherst, MA to attend graduate school. Being a young man of honor, he refused to bribe the police officer who would not clear him to obtain his passport. His convictions led him back to the police station on a daily basis where, after several days, the officer tired of his presence and finally acquiesced and cleared him for his passport. He completed his second Masters degree in physics in 1970 and continued his Ph.D. studies in Massachusetts. Under the tutelage of Professor Kandula Sastry and Professor William J. Gerace, his work on experimental and theoretical nuclear physics which led to a Ph.D degree in 1972. Soon after his graduation, he was recruited by Albert Einstein College of Medicine, Bronx, NY as an Instructor of Radiology. After two years, he moved to New Jersey Medical School as an Assistant Professor of Radiology and Director of Health Physics.
Dr. Rao's career flourished at New Jersey Medical School at several levels and contributed greatly to research in Nuclear Medicine and Radiation Biology. At New Jersey Medical School he worked closely with Professor Frank Ellis, a well-known radiotherapist. Dr. Rao was appointed as Director of Radiation Research and led his team in conducting both theoretical and experimental aspects of radiation biology and dosimetry of radiopharmaceuticals. His research led to changes in the formalism of the Society of Nuclear Medicine's (SNM) Medical Internal Radiation Dosimetry (MIRD) by extending it to subcellular compartments. This work was later published by the SNM as a monograph entitled Cellular S Values. During his research career, Dr. Rao received numerous grants from several organizations including the National Institute of Health (NIH). Dr. Rao was the recipient of several exceptional teaching and research awards from New Jersey Medical School. He served on several committees at New Jersey Medical School as well as national organizations. Dr. Rao chaired the Nuclear Medicine Task Group for American College of Medical Physics which led to the publication of a report on quality control in nuclear medicine. He also chaired American Association of Physicists in Medicine's (AAPM) task group on Dosimetry of Auger Electrons which produced three major reports that were published in Medical Physics. Dr. Rao visited several national and international laboratories across the world and gave lectures on his research findings. Dr. Rao was a Visiting Scientist at the University of Oxford, England. He served as a technical expert for the International Atomic Energy Agency (IAEA) and, in this capacity, visited University of Ghana Medical School, Accra, Ghana and Kenyatta National Hospital, Nairobi, Kenya.
Dr. Rao received a medal from the Swedish Medical Society, Stockholm, Sweden for his contributions to radionuclide dosimetry and to understand biological effects of internal radionuclides. Dr. Rao received the 'Loevinger-Berman Award' from the Society of Nuclear Medicine for his contributions to medical internal dosimetry. This award is one of the highest awards given to an individual in recognition of exemplary scientific contributions to the field of internal dosimetry. Dr. Rao authored four books and several book chapters related to nuclear medicine and medical internal dosimetry. He is known for his book "An Introduction to the Physics of Nuclear Medicine', published in 1977. Ninety five peer reviewed scientific papers were published by him and some of them received national awards. One example is his novel idea of absorbed dose calculations for dynamically changing tumor volumes. This paper received 'Outstanding Manuscript Award in Dosimetry' by the Journal of Nuclear Medicine. Professor Rao mentored several young investigators such as Roger W. Howell, Professor of Radiology at New Jersey Medical School; Venkata Lanka, Director of Radiation Safety, Veterans Administration, East Orange, NJ; Vahid Yaghmai, Associate Professor of Radiology at Northwestern University, Chicago, IL; Ravi Harapanhalli, former Branch Chief in the Office of New Drug Quality Assessment at the United States Food and Drug Administration; Venkat R. Narra, Associate Professor of Radiation Oncology at Robert Wood Johnson Medical School, The Cancer Institute of New Jersey; Michael T. Azure, Associate Professor of Radiation Oncology at the University of Alabama, Birmingham; Srikrishna M Goddu, Associate Professor, Washington University, St. Louis, MO.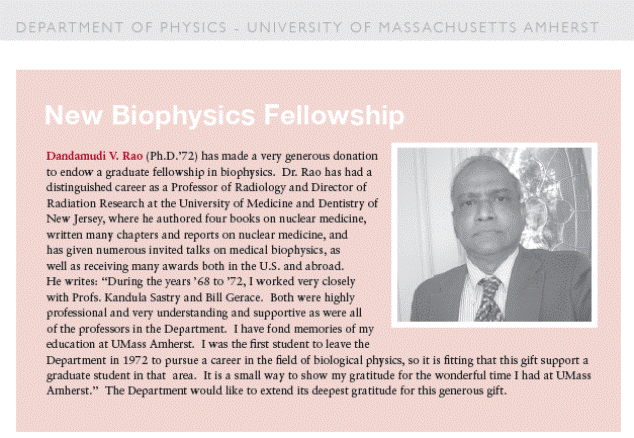 Dr. Rao voluntarily retired from New Jersey Medical School in 1998 and is currently an Emeritus Professor of Radiology at New Jersey Medical School. Dr. Rao is spending his retired life in Florida with his wife Sujatha. He volunteers to teach physics and mathematics to high school and university students. Dr. Rao volunteers his time to provide advice to senior citizens on how to manage their health insurance issues. He has also become involved in philanthropic endeavors. He founded the Sarojini and Veeraraghavayya Dandamudi Old Age Home in Gosala, near Vijayawada. This is home for twenty five senior citizens, and with Dr. Rao's assistance, continues to expand. He established the Dandamudi V Rao Scholarship in Biological Physics to encourage graduate research in this area at his alma mater.