Dr. Levounis Comments on Dangerous Male Enhancement Pills Dr. Levounis Discusses Behavioral Addictions on NJTV News:

Voluntary faculty honored at luncheon
Dr. Levounis speaks to the Psychiatric News about trends in treating opiate addiction
----------------------------------------------------------------
Message from the Chair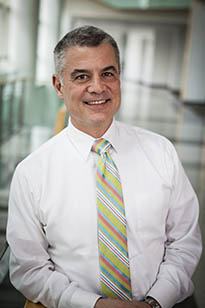 Petros Levounis, MD, MA
Chair, Department of Psychiatry
New Jersey Medical School
Welcome to the New Jersey Medical School Department of Psychiatry website. The New Jersey Medical School is the oldest Medical School in New Jersey. It was founded in 1954 to train exceptionally skilled clinicians who could help address the health care needs of our state.
The Department of Psychiatry at the New Jersey Medical School strives to deliver exceptional clinical care, provide state of the art education for students and residents, and produce cutting edge research in both clinical and basic sciences.
We are fortunate to have a diverse faculty comprised of psychiatrists, psychologists, social workers, nurses and established researchers who are committed to our mission and are passionate in their dedication to serve our community. Here is a brief summary of the priorities which allow us to fulfill our tripartite mission. For a more detailed description please refer to the clinical, research and education sections of our website.
Patient Care
A thirty-four bed acute inpatient service, located at University Hospital in Newark (the primary teaching hospital of New Jersey Medical School), provides short term stabilization for severe mental health problems and is a major training site for medical students and residents.

The Psychiatric Emergency Service at University Hospital assists patients requiring immediate mental health care on an emergency basis. In addition, it supports the mental health needs of patients who are being treated for medical/surgical emergencies.

The Consultation and Liaison Service at University Hospital applies biopsychosocial treatment approaches to challenging medically ill patients.
The Department's faculty outpatient practice is located at the Behavioral Health Sciences Building on the Newark Campus. Our practitioners have a wide range of experience in psychiatry, neuropsychological assessment and psychology.
Our Transcranial Magnetic Stimulation (TMS) practice, also located at the Behavioral Health Sciences Building, offers the latest, cutting-edge treatment for major depressive disorders.
An ongoing and solid collaboration with University Behavioral Health Care allows us to provide excellent continuity of care at the outpatient level.
Education
With gifted teachers and educators as well as unparalleled exposure to a great variety of psychiatric disorders, our Department provides medical students with a unique educational experience.
Mind, Brain and Behavior is an innovative, integrated course that blends principles of behavioral science with relevant neuroscience instruction.
Our clerkship sites afford students the opportunity to be part of a psychiatric team evaluating and treating a wide range of patients under the supervision of experienced faculty.
Our ACGME-accredited General Adult Residency and Child and Adolescent Psychiatry Fellowship are based on strong and well structured didactic and clinical curricula that provide our trainees with well-balanced, comprehensive and eclectic training.
In addition, through University Behavioral Healthcare, our Department offers a nationally recognized psychology internship.
Research
Our research efforts encompass a variety of areas in the biological, psychological and social domains. Research is supported by private foundations, state agencies, and the National Institutes of Health (NIH). A listing of currently active research programs can be found here.
In addition to the conduct of formal research programs by departmental faculty, we strive to integrate a research-based perspective into our educational and clinical missions through regular seminars.
In sum, whether you are looking for a physician who can deliver excellent care, a trainee searching for a highly skilled education or a researcher seeking a stimulating and productive academic milieu, you can count on New Jersey Medical School Department of Psychiatry's welcoming enthusiasm, dedication and commitment to the pursuit of excellence.
About the Chair
Petros Levounis, MD, MA, is a board-certified addiction psychiatrist. His academic interests include the psychotherapy and psychopharmacology of addiction and co-occurring psychiatric disorders, the teaching of psychiatry, gay and lesbian mental health and behavioral addictions.
Dr. Levounis is a Phi Beta Kappa graduate of Stanford University where he studied Chemistry and Biophysics as a combined BS/MS student, before receiving his medical education at Stanford University School of Medicine and the Medical College of Pennsylvania. During medical school, he researched the effects of social class on patient-physician relationships in Oxford, England, and received an MA degree in Sociology from Stanford. In 1994, he moved to New York City to train in Psychiatry at the New York State Psychiatric Institute of Columbia University. He graduated from Columbia receiving the National Institute of Mental Health Outstanding Resident Award before completing a two-year clinical and research fellowship in Addiction Psychiatry at New York University under the mentorship of Dr. Marc Galanter. Dr. Levounis received the American Psychiatric Association/Center for Mental Health Services Minority Fellowship and studied HIV risk factors in homeless men who suffer from severe mental illness and substance use disorders. In 2006, Dr. Levounis completed the Leadership Development for Physicians in Academic Health Centers Program at the Harvard School of Public Health.
Dr. Levounis has authored several articles, has lectured extensively on addiction topics throughout the United States and abroad, and has been interviewed by CBS, ABC, NBC, CNN, FOX, The Martha Stewart Radio Show, The New York Times and The Washington Post, among others. He is a Betty Ford Scholar; a member and Laughlin Fellow of the American College of Psychiatrists; and a recipient of the 2008 Coalition Leadership Award, the Irma Bland Award for Excellence in Teaching Residents, the Nancy Roeske Award for Excellence in Medical Student Education, the U.S. State Department Speaker and Specialist Award, and the Association of Gay and Lesbian Psychiatrists' 2012 Distinguished Service Award. Dr. Levounis serves on the boards of the New York State Office of Professional Medical Conduct and the American Society of Addiction Medicine (ASAM). From 2005 to 2009, he chaired the national Committee on Addiction Treatment of the American Psychiatric Association (APA). Dr. Levounis is an ASAM Fellow and a Distinguished Fellow of the APA.
Dr. Levounis's books include the self-help paperback "Sober Siblings: How to Help Your Alcoholic Brother or Sister—and Not Lose Yourself" (Perseus 2008), the textbook of "Substance Dependence and Co-Occurring Psychiatric Disorders" (Civic Research Institute 2010), the handbook of "Motivation and Change" (American Psychiatric Publishing 2010), the handbook of "Office-Based Buprenorphine Treatment of Opioid Dependence" (APP 2011), and "The LGBT Casebook" (APP 2012). His most recent book, "The Addiction Casebook" (APP 2014), is based on the DSM-5. Dr. Levounis is currently working on "The Behavioral Addictions," an innovative book that includes re-enactment video clips played by Rutgers NJMS medical students.
Dr. Levounis is married to actor Lukas Hassel and resides in New York City.
Please email questions and comments to: Geeta Erry
All contents copyright © 2015. All rights reserved.
All information within this site subject to change without notice.
Revised November 19, 2015