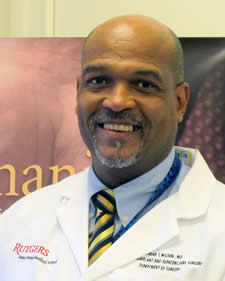 Welcome to The Healthcare Foundation Center for Humanism and Medicine at New Jersey Medical School. Founded in 2004 with a generous grant from the Healthcare Foundation of New Jersey, the Center promotes dignity and respect for the individual, commitment to the relief of suffering and the delivery of care that is kind, just and humble.
For physicians are, at their core, humble servants. Armed with knowledge and experience, doctors ensure the health of not just individuals, but the community as well.
With great advances in medical technology and a broader understanding of disease, doctors have incredible resources at their fingertips. But an added dimension of physician practice must be incorporated if we are to advance further the field of medicine.
That dimension is the human dimension.
At New Jersey Medical School, we believe in the spirit of humanism. Our students are learning to listen, accept, engage, dialogue and collaborate with their patients. As early as the first year of their medical education, NJMS students are actively learning in clinical settings.
The Healthcare Foundation Center for Humanism and Medicine focuses the ideals of humanism not just in our educational programs but in our research endeavors, clinical practice and community outreach activities as well.
We see our commitment to humanism as not only a way to enhance the medical education of our students, but ultimately, to change the way medicine is practiced.
We invite you to join us in our quest to change the face of medicine.
Dorian J. Wilson, M.D.
Director