Message from the Chair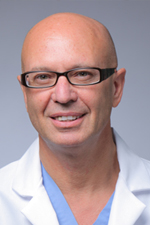 The Department of Anesthesia and Perioperative Care at the Rutgers New Jersey Medical School has a long tradition of providing excellent care with respect, professionalism, and integrity to the diverse population of Northern New Jersey. We are committed to placing a service to human health at the center of an academic culture. Our mission is: To Serve, To Teach, To Discover.
"What's in a name?"
Our Department is a Department of Anesthesia and Perioperative Care. What does that mean? Why not simply a department of Anesthesiology? The delivery of surgical care is undergoing unprecedented changes. Ambulatory surgery comprises approximately 65% of surgery in the United States today. Hospitals are dominated by monitored and critical care beds, with patients who are older and sicker. An ever expanding role of anesthesiologists includes not only traditional intraoperative care, but preadmission assessment, postoperative management, acute and chronic pain control, care of critically ill patients in the intensive care units, as well anesthetic consultations for postoperative complications. We are committed to provide coordinated perioperative care to achieve a better value for our patients. What is most important is that we realize the goal of delivering optimal care through unwavering commitment to our core values of respect of individual dignity, adherence to standards of excellence, and availability to the extended community.
"I say there is no darkness but ignorance"
Patient-oriented clinical and basic science research is an essential component of our mission. It is also an integral part of resident education at our department. We have an outstanding publication record, which includes articles accompanied by editorials in Anesthesiology, Anesthesia & Analgesia and The American Journal of Surgery. Our clinicians-scientists significantly impacted the field of clinical pharmacology (A. Patel, A. Bekker), monitoring technology and pharmacokinetics (G. Atlas, S. Shulman), neuroanesthesia (M. Xiong, A. Bekker), OB anesthesia (A. Gonzalez), application of alternative therapies during perioperative period (D. Grech), and pain control (A. Kaufman, V. Le, D. Eloy). Our groundbreaking research in understanding the relationship between surgical stress and outcome is broadly recognized by the anesthesia community (A. Bekker).The majority of clinical projects have been supported by competitive governmental and investigator initiated grants. Importantly, we have fostered collaborations with other departments, which has enhanced our own research and expanded clinical trials.
Our Basic Science Research is led by Dr Tao, the Vice Chair for Research. Dr. Tao is an established investigator and a leading authority in Neuroscience and Pain research. He has published more than 80 scientific articles and invited reviews in the areas of molecular neuropharmacology, behavioral pharmacology, receptors, and signal transduction in top-rated scientific journals, including Nature Neurosciences, Pain, Journal of Pain, and Anesthesiology. Currently, Dr. Tao's Lab is supported by two NIH RO1 grants as well as a grant from the Rita Allen Foundation. Dr. Ye, a neuroscientist fully supported by NIH for the last 10 years, is the other senior investigator in our Department. His research focuses on an understanding of the mechanisms of drug action on various brain structures and anesthetic neurotoxicity. Dr. Ye has been recently awarded with two NIH RO1 grants for his pioneering work in the area of the neuropharmacology of drug addiction.
"Praise us as we are tested, allow us as we prove"
Our faculty is fully committed to providing learning opportunities for our residents. The University Hospital is a Tertiary Care and Level 1 trauma center. Our residency program prepares broadly trained anesthesiologists who are capable of caring for patients undergoing a wide range of procedures, including complex transplantation surgery, cardiac surgery, interventional neurovascular surgery, obstetric and pediatric services, and pain management. We have an exceptional record of producing superb clinicians who have gone on to provide care in the more prestigious programs in the country. Similarly, our residents routinely obtain fellowships of their choice at world-renowned medical centers. Outstanding clinical experience is supplemented by a comprehensive didactic component, which includes weekly lectures, mortality and morbidity conferences, subspecialty journal clubs, board preparation reviews, and Grand Rounds. The department strongly encourages and supports residents' participation in research; every year our residents present their research at the major anesthesiology meetings.
Alex Y. Bekker, MD
Professor and Chair
Department of Anesthesiology

The faculty of the Department of Anesthesiology are dedicated to exceptional patient care, innovative approaches to education and cutting-edge research. We are proud of their accomplishments and several of out faculty have recently been featured in Pulse Magazine.