Issar Smith, PhD
-PHRI-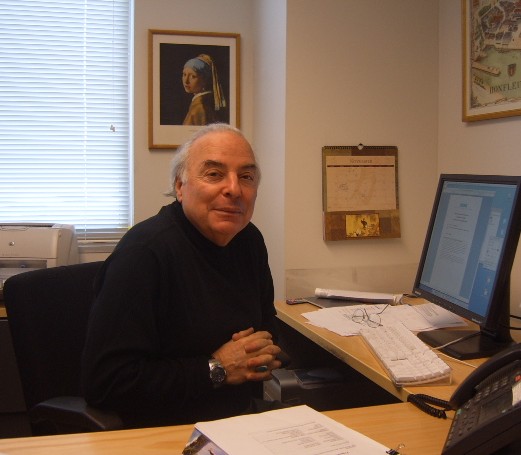 Despite the use of a generally safe vaccine for 70 years and effective antibiotics for 40 years, tuberculosis still kills approximately 2 million people annually. To develop new methods of diagnosis and therapy, it is necessary to find new targets, ie , genes and proteins, in the causative organism, Mycobacterium tuberculosis. A promoter trap system has been developed in our laboratory to isolate M. tuberculosis genes that are induced after infection of human macrophages and mice, as some of these genes may be important for virulence and also we should obtain information about the environment faced by the bacterium during infection of its mammalian host. Several genes have been isolated thus far, and the search for new candidate genes is continuing. To quantitate the in vivo expression of M. tuberculosis genes that have been identified by our promoter trap strategy and other methods that rely on a computer analysis of the completely sequenced M. tuberculosis genome to chose regulatory genes that could be involved in virulence, we developed a sensitive and accurate fluorescence based RT-PCR method. We measured the expression of these genes during M. tuberculosis infection of macrophages and in the lungs of infected mice and guinea pigs. Several genes showing differential regulation were identified and we are studying the mechanisms by which they are induced or repressed after infection. As part of this project we have shown that several iron regulated genes, as determined by growth studies in liquid culture, using reporter gene technology and the RT-PCR technique, are induced greatly when M. tuberculosis infects human macrophages and mice and in the lungs of TB patients. Thus, the milieu of the mycobacterial phagosome and lung granuloma is iron-limiting, which indicates that iron acquisition is essential for the pathogen's growth and virulence in infected hosts. Thus, the iron uptake apparatus should be an excellent target for therapeutic intervention against M. tuberculosis. To determine the role in virulence of iron regulated genes and others we have identified, we are inactivating them in M. tuberculosis and are measuring the survival of mutants in macrophages and mice. We are also studying the metabolism of fatty acids and lipids during infection as much evidence from our laboratory and others strongly suggests that M. tuberculosis changes its metabolism during infections to obtain carbon from these compounds rather than carbohydrates. Among other genes whose role in M. tuberculosis pathogenesis we are investigating in similar fashion are those encoding several transcriptional regulators, i.e., sigma factors and response regulators. Thus far we have found several candidate virulence genes amongst these regulatory elements as judged by the attenuated virulence phenotypes of mutants. DNA array analysis is a major component of our research efforts and this procedure has enabled us to identify Mtb genes that are controlled by these regulators and are essential for virulence. We are now using the information obtained from our research to begin the development of new anti-tubercular therapies.
SELECTED PUBLICATIONS
Giocomini, E., Sotolongo, A., Iona, E., Severa, M., Remoli, M.E., Gafa, V., lande, R., Fattorini, L., Smith, I., Manganelli, R., Coccia, E.M. Infection of Human Dendritic Cells with a Mycobacterium tuberculosis sigE Mutant Stimulates Production of Higs Levels of Interleukin-10 but Low Levels of CXCL10: Impact on the T-Cell Response. Infection adn Immunity 71: 3296-3304, 2006
Walters, S., Dubnau, E., Kolesnikova, I., Daffe, M and Smith, I. The Mycobacterium tuberculosis PhoP-PhoR two-component system: a regulatory system controlling genes essential for virulenceand complex lipid biosynthesis. Molecular Microbiology 60: 312-330, 2006.
Dainese, E., Rodrigue, S., Delogu, G., Provvedi, R., Laflamme, L., Brzezinski, R., Fadda, G., Smith, I., Gaudreau, L., Palu, G., & Manganelli, R. Mycobacterium tuberculosis ECF sigma factor sL:post-translational regulation, role in virulenceand in global regulation of gene expression. Infection and Immunity 74: 2457-2461, 2006
Rodriguez, G.M. and Smith, I. Identification of an ABC Transporter required fro iron acquisition and virulence in Mycobacterium tuberculosis. Journ. Bacteriol. 188: 424-430, 2006
Smith, I. Nathan, C. Peavey, H.H., Progress and new Directions in Genetics of Tuberculosis, An NHLBI working group report Amer. Jour. Respt. and Crit. Care Med. 172: 1491-1496, 2005.
Mendelson, M., Manca, C., Frank A. Post, F. A., Walters, S. , Smith, I., and Kaplan, G. Strain-specific mycobacterial lipids and the stimulation of protective immunity to tuberculosis. Tuberculosis. 85, 407-413, 2005.
Dubnau, E., Chan, J., Mohan, V. P., and Smith, I. Responses of Mycobacterium tuberculosis to growth in the Mouse Lung. Infection and Immunity 73: 3754-3757, 2005.
Rodriguez, G. M., and Smith, I. Iron metabolism in pathogenic mycobacteria, pp. 360-371, in "Iron Transport in Bacteria: Molecular Genetics, Biochemistry, Microbial Pathogenesis and Ecology", (Eds. J. Crosa & S. Payne) ASM Press 2004.
Smith, I., Bishai, W., and Nagaraja, V., Control of mycobacterial transcription, pp. 219-231, in Tuberculosis, 2 nd Ed. (eds. S. Cole, D. N. McMurray, K. Eisenach, B. Gicquel and W. Jacobs) ASM Press, 2004.
Marras, S. A. E., God, B., Kramer, F. R., Smith, I., and Tyagi, S. Real Time measurement of in vitro transcription. Nucleic Acids Research 32: e72 1-6 (2004).
Manganelli, R., Fattorini, L., Tan, D., Iona, D., Orefici, G., Altavilla, G., Cusatelli, P. , and Smith, I. The ECF Sigma Factor s E is Essential for Mycobacterium tuberculosis Virulence in Mice. Infection and Immunity 72: 3038-304, 2004.