General Surgery Residency Program
Message from the Program Director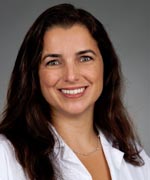 Welcome to the Rutgers New Jersey Medical School General Surgery Residency Program. As Program Director, I am pleased to invite you to explore our department, and the opportunities for surgical training with us.
The General Surgery Residency is accredited by the Accreditation Council on Graduate Medical Education (ACGME). The program includes categorical general surgery positions, as well as designated and non-designated preliminary positions. Designated preliminary positions include Neurosurgery, Orthopedics, Otolaryngology, Plastic Surgery and Urology tracks. We can also accommodate up to ten non-designated PGY-1 residents and four non-designated PGY-2 residents. The residency is both large and quite diverse, both ethnically and culturally. We are justifiably proud of our diversity, our gender equality, and the unique opportunities that such a community provides.
The program is non-pyramidal, and accepts eight categorical residents each year. As prescribed by the Surgery Residency Review Committee of the ACGME, and the American Board of Surgery, there are five years of clinical rotations. The program emphasizes early, broad-based involvement in patient care, both in and out of the operating room, with graded responsibility and supervision. In addition to these required rotations, one or more optional years of laboratory, clinical or outcomes research, with the possibility of advanced degrees (MPH, MBA, Ph.D.) are strongly encouraged.
The integrated residency program is multi-institutional, providing different clinical experiences at four hospitals.  Our four hospitals are as follows: University Hospital, an urban academic medical center; the New Jersey Veteran Association Health Care System; St. Peter's University Hospital and Hackensack University Medical Center, both of which are suburban teaching hospitals with busy surgical services.  This results in a broad-based experience, as well as familiarity with different healthcare delivery systems. The clinical rotations are designed to provide a comprehensive exposure to all elements of general surgery, including vascular surgery, surgical oncology, trauma and acute care surgery. Additional rotations provide experience in pediatric, cardiac, thoracic, plastic, and transplant surgery. A particular advantage of our program is the absence of fellows in most specialties, permitting our residents much more exposure to major operative procedures, such as liver transplants, than would otherwise be available.
Our educational philosophy is predicated on the recognition that residency is only the beginning of a process of life-long learning. Thus, it is vital for residents to learn how to critically assess new information and make evidence-based care decisions. This is then combined with experiential learning based on progressively increasing operative proficiency and responsibility for decision making. Learning in the inpatient and outpatient settings are combined with extensive didactic sessions to assure that all residents are progressing satisfactorily in the six competencies, and meeting all milestones. An extensive simulation curriculum has also recently been implemented.
In addition to my role as Program Director, the educational program is strongly supported by Dr. Anne Mosenthal, Chair of Surgery, Dr. Dorian Wilson, Associate Program Director, Dr. Devashish Anjaria, Assistant Program Director, Dr. Michael Shapiro, Assistant Program Director, and Dr. Aziz Merchant, Director of Surgical Simulation. There are site program directors at each of the four integrated hospitals. Most importantly, the entire faculty is dedicated to resident teaching and development.
Becoming a surgeon is an awe-inspiring journey. Surgery requires a multiplicity of skills – cognitive, diagnostic, empathic, and technical--all coming together to address with a patient's problem. We hope you will give serious consideration to our training program. For those who do, we look forward to helping you to start that lifelong journey, providing opportunities, challenges, guidance and redirection when necessary.  Our intention is that our graduates will be known as excellent surgeons and compassionate clinicians with a commitment to life-long learning and the advancement of surgical science and innovation.
Anastasia Kunac, MD
Program Director