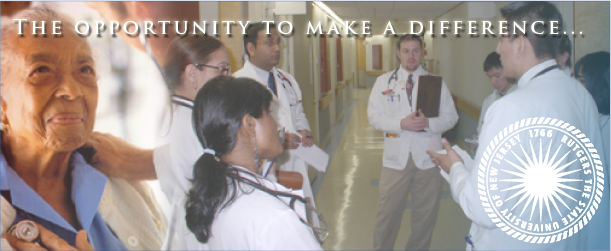 This site describes New Jersey Medical School's innovative Internal Medicine Residency Program in some detail. Our Department of Medicine is excited, energized, and enthusiastic. If you're eager to learn, this University-based integrated residency program is for YOU!!


---
Internal Medicine

Challenging, rewarding, intellectually stimulating. The opportunity to make a difference; to know patients as people ...often for life. It all starts with a top-rated Residency Program, one that practices and teaches medicine in the Oslerian tradition. Our program is structured to provide a broad clinical experience enabling the resident physician to become a clinically competent, board-certified internist who is always humanistic. Whether you're interested in primary care, education, academic medicine, inpatient medicine, or contemplating subspecialty training, it is offered by our program.
---
This innovative University Residency Program, designed for the 21st century, has the following unique features:
- We are a Medical School whose primary mission has always been medical education, patient care and research. You'll be at the hub of a network of teaching hospitals offering unsurpassed clinical experience.

- Service loads and number of admissions are regulated, duty hours have been in compliance for decades and attendings are world-recognized teachers. Support services and collegialism are plentiful. Humanism, professionalism and love of teaching medicine are the strengths of the program.

- You'll be exposed to a diverse patient population ranging from inner city, urban acute care to private suburban tertiary care, and everything in between. Our helicopter even transports patients to our hospital from the Statue of Liberty.

- Under the guidance of NJMS' faculty physicians, our residents assume graduated responsibility. They are there first to evaluate the patients, formulate a diagnostic and therapeutic plan, and manage the patient from admission to discharge.

- No program would be complete without an adequate outpatient experience. Our residents see "their own patients" in a faculty-supervised continuity clinic throughout all three years.

- Additional ambulatory experience is gained through block rotations, ER, geriatrics, and in many subspecialty electives.
---
Internal Medicine Residency Program | Rutgers New Jersey Medical School
150 Bergen Street, UH-I248 | Newark, New Jersey 07101
Ph. 973-972-6056 | Fax 973-972-3129