Vascular Surgery Fellowship Overview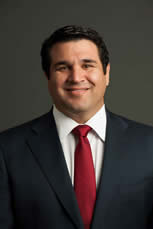 Welcome and thank you for your interest in the Vascular Surgery Fellowship at Rutgers New Jersey Medical School. We offer an RRC-accredited two-year fellowship in vascular surgery through the 5+2 clinical track. As a graduate of New Jersey Medical School, I am proud of the tradition of this medical school and its vascular surgery fellowship. We have one of the oldest fellowships in the country, with our first graduate in 1978. Since then, we have trained numerous vascular surgeons who have gone on to have successful careers in academics and private practice across the United States.
We currently alternate graduating between one and two clinical fellows per year. Our fellows spend time at University Hospital in Newark, NJ. At this busy urban city academic medical center, the fellows are exposed to a vast array of complex open and endovascular cases, in addition to the more common vascular procedures. Cases are performed in the main operating room, a variety of interventional suites, and the office procedure suite. Fellows also rotate at Hackensack University Medical Center, a 900-bed non-profit hospital. HUMC is the largest provider of inpatient and outpatient services in New Jersey and is the fourth largest hospital in the nation, based on admissions. At HUMC, you will be exposed to a large number of vascular surgeons who are at the forefront of innovation and technology. Our trainees also rotate at Jersey City Medical Center, located in the heart of vibrant and rapidly changing Jersey City. We are proud of the clinical and educational experience of our fellows and enjoy watching our graduates become leaders across the nation and within their communities.
The academic curriculum is comprised of weekly Pre-operative Case Conferences, monthly Morbidity and Mortality Conferences, monthly Vascular Surgery Grand Rounds, and Journal Clubs at University Hospital. There is also dedicated time to interpret vascular lab studies and prepare for the Registered Physician in Vascular Interpretation (RPVI) exam. We are involved in several clinical trials, as well as the Carotid Revascularization Endarterectomy vs. Stenting Trial (CREST), started by Dr. Robert Hobson here at New Jersey Medical School.
I hope you will spend some time looking at our website to learn about our program and I look forward to speaking with you.

Michael A. Curi, MD
Program Director, Vascular Surgery Fellowship
Associate Professor of Surgery
Chief, Division of Vascular Surgery
Rutgers - New Jersey Medical School