Spotlight
Michelle Favre, Ph.D. student
Multidisciplinary Ph.D. Program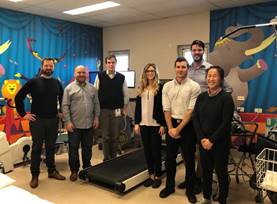 During my PhD training at Rutgers, I've been lucky enough to have incredible research opportunities in the summers of 2017 and 2018.  In June 2017, I participated in the 22nd NASA Extreme Environment Mission Operations (NEEMO 22) in Key Largo, FL. NEEMO is an analog to space conditions in which  aquanauts live 20 meters underwater in the Aquarius habitat, the world's only undersea research station. The mission is comprised of a team of astronauts, engineers and researchers who work together to test new equipment, techniques, and tools to be used during space missions. While the NASA team tests measures related to space missions, outside researchers, like us at Rutgers, get the opportunity to conduct research related to the environment like studying coral reefs and examining the health effects of living in isolated, hyperbaric conditions. Our lab was one of the fortunate outside research groups that had the opportunity to study these health effects in a hyperbaric environment.

When I was approached with this rare opportunity, I immediately volunteered to participate in the mission. I was intimidated by the thought of going into the experience, as I would be independently collecting data without the help of my PI or lab members. This meant the success of the research study depended on my ability to troubleshoot any issues that arose during the mission, and, unsurprisingly, we faced many technical issues. For example, our most critical piece of equipment was damaged during shipment and I had to fix it the night before the first day of the mission. Then, once the mission started, each aquanaut faced technical issues that could not have been predicted. Our equipment was sensitive to the high pressure of the hyperbaric environment and needed to be taken apart and reset with each use. Since this was not expected, we did not have instructions in our protocol to troubleshoot this problem. I had to walk the aquanauts through how to get our equipment working by relaying messages through the designated coordinator in the mission control center. Despite the challenges we faced with our equipment, we were able to successfully collect our data, and by the end of the mission, the aquanauts even gave our research team an award for the "most impressive array of equipment."

My time working with NASA was an invaluable and rewarding learning experience. It gave me the confidence I needed when presented with another unique data collection opportunity the following summer. In August 2018, I flew "Down Under" and spent five weeks investigating the effects of concussion and post-concussion syndrome in children at one of the largest children's hospitals in Australia with my PI's collaborators in Sydney.
My experience in Sydney was similar to  my experience working with NASA as I  knew none of the researchers I'd be working with, and, once again, I was the only person from my lab sent to collect data. This time however, I was living away in a foreign country for a month about as far as I could be from the comfort of my family, friends and lab members in New Jersey. I was nervous about going into the experience knowing I'd have to navigate a new city on my own, but just like my time at NASA, I made new friends, many of whom I continue to stay in touch with.
When I began my PhD studies at Rutgers, I never could have imagined working with a team as prestigious as NASA, or conducting research with a renowned clinician in one Australia's largest children's hospitals. I've had an incredible experience as a PhD student at Rutgers and cannot be more grateful for the rare research opportunities I've had.