Convocation and Commencement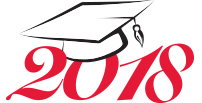 School of Graduate Studies

Friday, May 11, 2018 | 9:30 – 11:30 a.m

Louis Brown Athletic Center (RAC), Livingston Campus
This must-attend graduation ceremony is an intimate event, where you'll join with your graduating class and faculty to receive individual recognition. The Convocation will include the following festivities:
Your name will be read.
Your photograph will be taken.
Doctoral candidates will be hooded on stage.
You will celebrate with the students, faculty, and staff who have been alongside you during your studies.
A light reception will follow the ceremony in the tent located in the grass field across from Henry's Diner.
University Commencement
Sunday, May 13, 2018 | 10:00 – 11:30 a.m.
High Point Solutions Stadium, Busch Campus
Graduating from Rutgers means enjoying a multi-part ceremony. University Commencement, is a giant celebration with your fellow students from across the entire university and all three campuses. There, you will see your name scroll on the stadium's digital ribbon board and enjoy special videos such as graduate shout-outs to family and friends, photo montages, and more. With thousands of guests saluting the culmination of your achievement, it will be a day you will never forget.
Learn more about University Commencement.
2018 Regalia Ordering Process (All graduating students must have attire to participate in the SGS Convocation and Rutgers Commencement Ceremonies.)
For information about purchasing academic regalia, please contact the Rutgers University Bookstore at 732-246-8448.
---
Graduation Procedures
Award of Degree Procedures
The links below bring you to the procedures for your specific program. If you have questions you may contact the SGS Student Affairs office or the Associate Dean for Student Affairs.
Contact Nadine Stevens in the Student Affairs office:

Rutgers School of Graduate Studies
185 South Orange Avenue, Room C696
Newark, NJ 07101
Phone: (973) 972-4511
Fax: (973) 972-7148
email: stevenna@gsbs.rutgers.edu
Graduation Procedure for PhD students
Graduation Procedures for MS students
Graduation Procedures for MBS students