Q and A with dental scholar track alum, Charris Allen, Rutgers School of Dental Medicine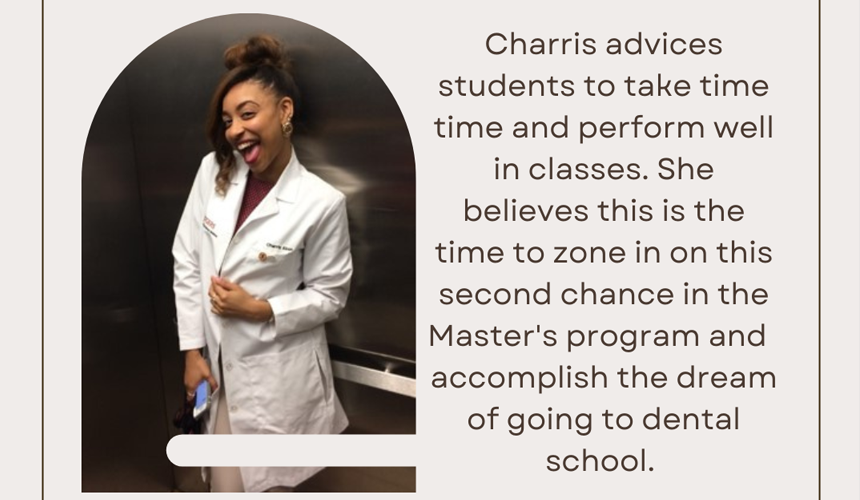 How did the curriculum help you in reaching your goals?
The curriculum of the program really helped to prepare me for dental school in terms of content and the amount of information. I found that once I matriculated into dental school, especially at Rutgers, it really benefited me to have the background education of the Master's program. It made classes in dental school feel more like a refresher than being bombarded with a lot of new information. It almost felt like I had a slight advantage in having already been exposed to a good amount of the information I was learning in my first year of dental school. It was also nice that a lot of the faculty that teach classes to the Master's students also teach the same courses in the dental school for dental students so I was already familiar with some of the faculty and how they operate. While obtaining my Master's I also got a concentration in Pharmacological Sciences. I enjoyed learning about different drugs and how drugs affect the body and how our body affects drugs.
Describe how a particular faculty members affected your learning experience.
Throughout my experience in the Master's program at Rutgers SGS I often consulted with Dr. Tsiagbe for advice and guidance. He played a huge role in my success of getting accepted into dental school. From the beginning he went out of his way to get a current student to give my family and I a tour of the school after I missed the scheduled tour date. He was not only my assigned advisor for the program, but I also had the pleasure of doing research with him. After developing a great relationship with him from consistently seeking advice in regards to my classes and taking the DAT, I asked him to write me a letter of recommendation for dental school and he agreed.
Please share advice for a student starting their education on the Newark Health Science Campus of Rutgers SGS.
My advice is to make the most of your time during the program. There is plenty of time for students to take their time and perform well in classes. This is the time for them to zone in on the second chance opportunity to accomplish their dream of going to dental school. I would implore students to use that time to study, create a future plan, and be intentional with their decision making. The faculty in the program are there to help and are very knowledgeable about the application process for dental school as well as the interview process. Lastly, I want incoming students to know that they are more than capable of excelling at Rutgers SGS. It will take hard work, discipline, pro-activity, and encouragement. Working hard is important, but it is also essential to have people in your corner who are motivating and encouraging. The faculty are great people to talk to for reassurance as well as their fellow classmates.