SGS-Newark Health Science Campus graduates entering
Rutgers New Jersey Medical School Class of 2023
Article featured in Rutgers NJMS Pulse Magazine.
Click here to read the article
Advantages of the Medical Scholars Track:
Personalized advice from the Office of Admissions at Rutgers NJMS
A guaranteed interview at New Jersey Medical School by earning a 3.6 GPA after at least 20 credits and an MCAT of at least 127 in each section (must be permanent resident or citizen of the US)
Opportunity to take medical courses and be graded with Rutgers NJMS (limited enrollment)
Assignment to an experienced clinical advisor
Complete degree in one year, or follow a less intense 3-4 semester program
Our medical scholars can volunteer within programs at NJMS. Some of the NJMS volunteering opportunities popular among our current Masters students are, volunteering as
- teachers and mentors in Project BEAM
- case managers in the Student Family Health Care Center
- standardized patient for OSCE.
Curriculum
Students require 30 credits with a grade point average of 3.0 (B-average) or better to graduate. Of these 30 credits, 9 credits come from the core (required) courses listed below. The remaining 21 credits are from elective courses. Based on every individual student's goals, strengths, and timeline, the academic advisor, Dr. Krista Blackwell, helps students create a course schedule from the following:
Core courses:
1. Seminar in Biomedical Sciences or Oral Biology Research Seminar (1 credit)
2. Research in Biomedical Sciences, also called Masters Research Rotations (2 credits), which are typically based in a research laboratory but can also involve clinical or non-laboratory research. Students who have previous research experience can obtain an exemption from this requirement, fulfilling the 2 credits with another course)
3. Any two of the following four 3 credit courses:
Fundamentals in Biomedical Sciences A, Biochemistry (Fall)*
Fundamentals in Biomedical Sciences B, Cell Biology (Spring)*
Fundamentals of Human Physiology (Spring)*
Fundamentals of Pharmacology (Fall)
*Students can substitute these courses with the medical school courses
Elective courses:
A complete listing of available graduate courses can be found in the Spring and Fall course listings on the course information web page. By selecting specific sets of elective courses, students can also complete a concentration within their Master's degree, with offerings in Neuroscience, Oral Biology, Pharmacological Sciences or Stem Cell Biology.
Alumni Spotlight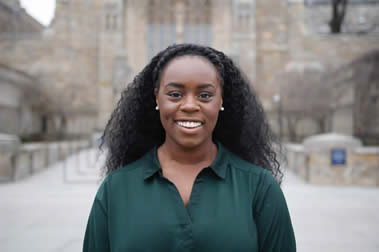 Chelsea Osuji, MS '18
Rutgers Robert Wood Johnson Medical School,
Class of 2023
Chelsea Osuji (MS '18) utilized her time at Rutgers School of Graduate Studies to undertake various leadership roles and strive toward academic excellence, ultimately culminating in her acceptance into Robert Wood Johnson Medical School. Osuji recalled that she enrolled in the Master's program "to extend my knowledge within the health sciences, particularly in the courses most relevant to medical school. I believe these classes have solidified my foundation of the sciences, addressed areas of understanding that were lacking, and allowed me to become knowledgeable in areas that I personally found interesting." One of her favorite electives, Topics in Pharmacology I, taught by Dr. Lester Sultatos, gave her a "great understanding of concepts in immunology and cell biology as well as the connection between them. While much of science can often feel abstract, I really enjoyed how everything we learned in this course felt directly applicable despite being taught on a molecular level."
As a full-time student, Osuji worked as a Case Manager, and ultimately the Case Manager Director, for the New Jersey Medical School's Student Family Health Care center, a free clinic which offers yearly positions to Master's students from the Rutgers School of Graduate Studies-Newark. Additionally, Osuji was elected president of GSBS Squared, a tutoring and mentoring partnership between Rutgers and nearby Science Park High School. To further maximize her time, Osuji utilized her summer to pursue her interests in research, working as a research assistant at the National Institute on Drug Abuse. Prior to her upcoming matriculation into Robert Wood Johnson Medical School in Fall 2019, Osuji worked as a full-time research associate at the Yale School of Medicine. Osuji said that in this position she used "techniques that were first introduced to me in the program on a daily basis and am able to apply knowledge from my coursework directly to my research." Osuji believes that with hard work and dedication "there is nothing that you cannot accomplish." At the Newark Health Science Campus of Rutgers, she turned her dreams into reality through hard work and now it is your turn to do the same!
-Written by Tiffany Joyner, Edited by Caitlyn Moore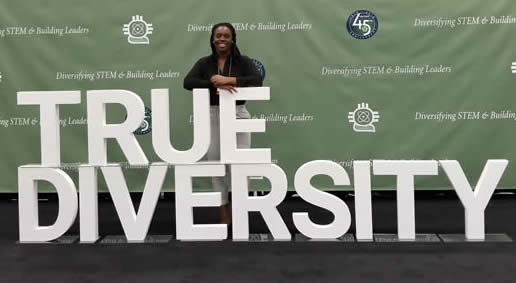 Chelsea Osuji at the Society for Advancement of Chicanos/Hispanics and
Native Americans in Science (SACNAS) Conference, October 2018