Spotlight
Student Spotlight: Joycelyn Radeny
By Rida Gilani
When Joycelyn enrolled in the Masters of Biomedical Sciences program as a Biomedical Scholar, she knew that her heart lied in immunology and her dream was to be able to do a PhD in it. What she did not know was how exactly to go about the whole process.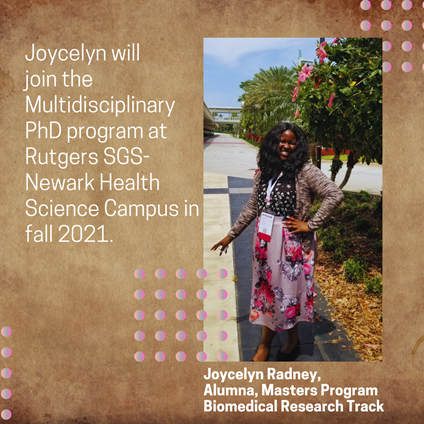 She decided "to be open-minded. I learned a lot from taking classes that I was not open to but ended up taking out of curiosity. This master's program is for you to figure out what you want to do career or education wise"
Her favorite course during the program was 'Pharmacology and Pharmaceutical Marketing'. "I loved this course because of how different it was from traditional science classes. The class truly challenged my way of thinking and showed me how to become more critical in the analysis of pharmaceutical data when it comes to deciding on what drug is the better option in terms of pharmacodynamics and pharmacokinetics."
She also made good use of the available resources to help her with her coursework. " Don't be afraid to ask for help when you need it. I have come to learn that faculty members truly care about their students and are willing to help them succeed."
She was fortunate to have mentors who were great teachers and guided her throughout the program;
Dr Bocarsly was her thesis research mentor. Joycelyn was able to first learn and then master many new techniques under her wing. Her research investigates the role of mitochondrial dysfunction in driving senescence in human CD8 T cells." My mentor helped me develop critical thinking skills by asking thought provoking questions."
Dr Badheka is the track director/advisor for Biomedical Scholars in the Masters program. When Joycelyn told her about her passion for immunology and her aim of getting into a PhD program, Dr Badheka helped her tailor her course selection accordingly. She also gave her information about different faculty members to get in touch with regarding her research. " She taught me the importance of having a plan and being organized. Working with her gave me the confidence I needed to believe in myself and apply to the PhD programs of my choice."
During her stay at  Rutgers SGS, Joycelyn took the required and elective courses, did her thesis research, and still found time to take part in Peer-to-Peer Tutoring as well. She tutored fellow students in Immunology, Fundamentals of Biomedical Sciences A and Fundamentals of Biomedical sciences B.
Joycelyn will join the Multidisciplinary PhD program at Rutgers SGS-Newark Health Science Campus in fall 2021. She is most excited about gaining the knowledge, guidance, and tools to conduct research in the field of immunology and infectious diseases, which I am passionate about. After her PhD she is looking forward to her dream career as a research scientist.
Outside of school, Joycelyn loves learning about cultures that are different from her own. She does this by trying different cultural foods and attending fashion/musical/dance performances. She also enjoys watching historical documentaries to gain a better understanding of the cultures she is learning about.