Student Spotlight: Meet Manali Desai
By Pamela Hirschberg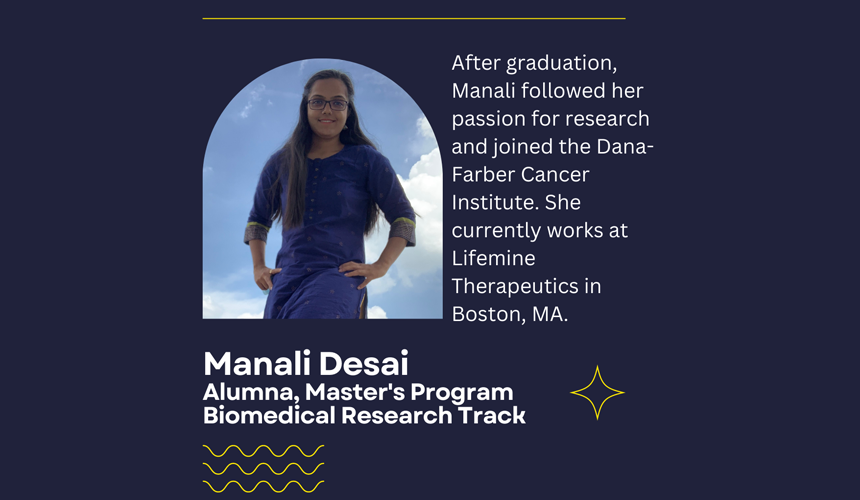 Before joining the Master's program at Rutgers SGS RBHS-Newark, Manali Desai completed Bachelor of Dental Surgery (BDS) education in India. As a dentist from Mumbai, Dr. Manali Desai was well versed in the clinical side of biomedical sciences. However, she was curious and keenly interested in pre-clinical or non-clinical biomedical research. She believed that clinicians should always be aware of research surrounding their practices, including information about medications that are prescribed. When I asked her what she loved about research, she said that she enjoys critical thinking, analytical skills and "gaining different perspectives for the same situation." After recently graduating from the Master's program in biomedical sciences Manali said "now I am a researcher and a clinician." She even stated that her experience learning to do research has made her a better dentist.
Manali became interested in the Master's program because of the opportunity to focus on oral biology. She completed her Master's thesis in the lab of Dr. Kabilan Velliyagounder. Her research in Dr. Velliyagounder's lab involved an in-vitro study of acrylic dentures, where she identified bacteria that cause denture stomatitis in elderly patients. She also observed the effects of lactoferrin treatment on these oral lesions. During her time in the Master's program, Manali also did a rotation with Dr. Paula Bartlett where she studied the effects of certain compounds on the parasite that causes malaria in humans, Plasmodium Falciparum.
Research wasn't the only highlight of Dr. Desai's studies here at Rutgers SGS RBHS-Newark. She gained perspective on the journey of a drug from in-vitro laboratory tests to the clinical market in the "PATH N5209 Molecules to Medicine" course. "Pharmaceutical Marketing" also taught her more about drug marketing through understanding potency, efficacy, and drug reactions in the patients. Manali was also the store manager for the Graduate Student Association (GSA), and she loved to help conduct events for the graduate school. Her wide array of knowledge and well-rounded experiences from the Master's program landed her a job at Dana Farber Cancer Institute as a research technician studying virology and immunology of the flu virus. When I asked her for a word of advice for current Master's students, she said, "enjoy your courses more than seeing them as materials to pass the course!"