Peer Tutoring Program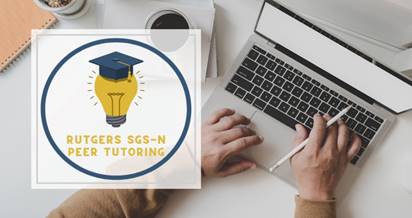 Email us: PeerTutoringSGS@gsbs.rutgers.edu
Instagram: @PeerTutoringSGS
Sign up for Tutoring Services: https://linktr.ee/peer.tutoring.sgs
WHO WE ARE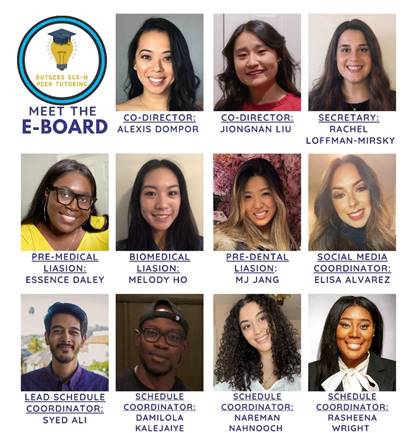 Our purpose:
The purpose of this association shall be to cultivate and promote success in the basic medical and dental sciences; to support the graduate students in their academics through peer engagement; and to generate a sense of community and scholarship among the students of graduate studies and the Graduate School of Biomedical Sciences.
Our mission:
Our mission is to provide quality academic support to graduate students by recruiting qualified student volunteers. We aim to empower students by fostering academic success in a collaborative and inclusive environment.
TUTORING SERVICES
Tutors:
Benefits of tutoring:
Gain volunteer/leadership experience within RBHS community
Get to know your fellow graduate students
Network with Course Directors and Teaching Assistants
Improve communication skills
Reinforce your knowledge of the material you are teaching
Requirements:
Students who have received an A in the course they are offering tutoring services are eligible to tutor
No tutoring experience necessary
All tutors must hold a minimum of one tutoring session per week. Each tutoring session must be at least 1 hour long
Tutors must come prepared with a lesson plan, whether it is a presentation of lecture objectives or providing students with practice questions
Students:
Tutor services are available for ALL graduate students (pre-medical, pre-dental, biomedical and PhD candidates).
For the best tutoring experience:
Sign up for tutoring as early as possible
Attend tutoring sessions every week

If you are unable to attend, you must notify your tutor or schedule coordinator as soon as possible

Tutoring sessions will be much more beneficial to everyone if you are actively participating

Ask questions, answer questions, and engage in conversations to learn the material better

Come prepared by reviewing the material before the tutoring session
INTERESTED IN OUR TUTORING SERVICES?
To sign up to be a tutor or to seek a tutor by following the link below and completing the attached form!
NOTE: you will need to log into your Rutgers NetID to complete the forms.
https://linktr.ee/peer.tutoring.sgs